NEWS
'DWTS' Watch: Aiden Turner's Dancing Dreams are Over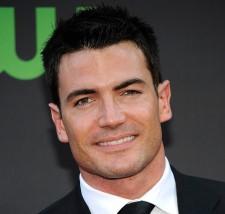 Former All My Children star Aiden Turner is available for acting work again after being eliminated from Dancing With the Stars on Tuesday night.
The day after his partner, Edyta Sliwinska, said they were scared they might be going home, their worst fears were realized.
OK! VIDEO: KATE DISMISSES JON'S "ABSENTEE" MOM CLAIMS
The couple's rumba only received 33 out of 60 points on Monday night, second to last, just above Kate Gosselin and her pro Tony Dovolani's score of 32. The judges blasted Aiden as awkward, with Bruno Tonioli comparing him to a jerky stop motion animation character.
Article continues below advertisement
Aiden told OK! after he learned his fate, "I'm upset. I care. I didn't take this as a joke. I really worked hard. It's a shame. I'm going to miss everyone."
OK! EXCLUSIVE: DEREK HOUGH'S DWTS BLOG: REVVING UP FOR THE RUMBA
His devoted dance pro, Edyta, said, "It's upsetting because just as he started to feel comfortable on the dance floor, we've got to leave. That's why Aiden is so disappointed."
And Aiden was looking forward to performing next week, when he and Edyta planned to dance to the Rocky movie theme, "Gonna Fly Now," with the hunky actor channeling a boxer character.
OK! NEWS: DWTS WATCH - KATE GOSSELIN AND TONY DOVOLANI HAVE A "BREAKTHROUGH"
The soap hunk didn't feel he could have done anything differently in the competition, which has already seen casualties in actress Shannen Doherty and astronaut Buzz Aldrin. "I just did everything I was trained to do," Aiden said. And this week, he insisted, "I was more carefree instead of careful. I went for it."
But viewers didn't come through with enough votes and Aiden lost out in the bottom two with Niecy Nash and her partner Louis Van Amstel (although, as the show says, Niecy and Louis might not have necessarily been bottom two).
Article continues below advertisement
OK! EXCLUSIVE: KATE GOSSELIN'S BIG DANCING DILEMMA
Now, Aiden said, it was "back to the audition trail. I'd love to do a sitcom or an action movie. I really want to work hard and challenge myself." Aiden will also devote himself to his 8-month-old daughter: "I really enjoy hanging out with her and watching her grow."
His fellow DWTS competitors will miss him. "I got really close with Aiden," Jake Pavelka revealed. "He's a great friend and I look forward to strengthening the friendship."
OK! NEWS: KATE GOSSELIN GETS NEW TLC SHOW, TWIST OF KATE
Meanwhile, Kate Gosselin, who was hailed by the judges for performing credibly on Monday, was teary-eyed over Aiden's departure, saying, "He's been so gracious and kind and supportive of me." She added to OK! "And Edyta — I want to be her when I grow up. Her body is ridiculous."
Kate sailed through to week five and told OK! backstage, "I'm so honored to be standing here." She's looking forward to more progress in her DWTS journey: "I'm finally excited and less scared to death. I can't wait to dance next week."
Article continues below advertisement
And on Monday, the remaining cast members will perform to movie theme songs. Jake and Chelsie Hightower will be doing the cha cha, so "look forward to some booty shaking!" she told OK!.
Kate and Tony will be doing the foxtrot. Tony promised, "We're going to work on the technique as the judges asked for it. What I'm anxious to do is show everybody that she can actually dance!"