NEWS
'DWTS' Watch: Brandy & Jennifer Grey Tie for First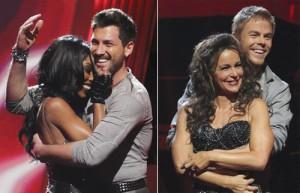 Dancing with the Stars brought back some of the show's favorite celebrities from various seasons to celebrate the 200th episode on Monday night. And as part of the festivities, each of the six remaining couples did a group cha cha plus an individual dance based on an iconic DWTS performance from the past — with the original celebrity acting as guest judge.
Article continues below advertisement
New front runners Brandy and Maksim Chmerkovskiy and Jennifer Grey and her partner Derek Hough tied for first in the two combined scores, both getting 64 out of 70. Meanwhile, Bristol Palin could be eliminated on election night tomorrow after she and pro Mark Ballas scored the lowest — 57 out of 70.
For the group dance, the six couples were divided into teams, with Bristol, Rick Fox, and Kyle Massey performing for team captain and DWTS alum Kristi Yamaguchi and Brandy, Jennifer, and Kurt Warner for another show veteran, Apolo Ohno. Kristi's group got 24 points, while team Apolo triumphed with 27.
Then, all the celebrities had the difficult task of reinterpreting a famous DWTS performance from a former season to pay tribute to the show's 200 episodes (in which 121 celebrities have appeared).
Brandy and Maks recreated the foxtrot made famous by Gilles Marini (and his then-partner Cheryl Burke). They did a near-perfect job, with Brandy making only one slight misstep which was pointed out by judges. Overall, they loved it, as did guest judge Gilles, who told them, "I felt goosebumps."
Article continues below advertisement
At the 200th episode party after the show at Boulevard 3 in Hollywood, Brandy said of having a top score the third week in a row, "I try not to get too caught into the leader board thing it because it's all about the work we're putting into it. Just gotta stay humble and work harder. That's it." She added, "I want it. My eye is definitely on the mirror ball, but it has to be about the work before I can even tackle that type of thought."
Her partner Maks told OK! about their re-do of Gilles' foxtrot: "At the risk of upsetting somebody, I gotta say that I think Brandy's foxtrot was better. I was so happy. I don't think I've been that proud in a long time."
DWTS WATCH: AUDRINA PATRIDGE ELIMINATED; GEARS UP FOR NEW REALITY SHOW
It seemed impossible to do as well as Brandy and Maks, but Jennifer and Derek managed, as their tango based on Drew Lachey's season two performance (with Cheryl Burke) brought judge Carrie Ann Inaba to tears. Drew himself called it beautiful. Jennifer, who was shown crying and complaining of fatigue during filmed rehearsals, pulled it all together to tie Brandy for first on Monday night.
Article continues below advertisement
In a tie for second place were Rick Fox and his pro Cheryl Burke, who earned a combined 61 out of 70 for the two dances. Rick and Cheryl did Helio Castroneves' quickstep (which he originally performed with Julianne Hough) — with the basketball star donning a green suit instead of the racecar driver's famous banana yellow costume. Judges felt it was Rick's best performance so far.
Monday night, Rick said, "I had a blast." He told OK! he thought doing Helio's routine, which incorporated elements of the Charleston, allowed him "to be light and playful, the fun, goofy guy that I am. That side hasn't shown up because it's been lost in the competitive side."
The athlete's girlfriend, Eliza Dushku, who accompanied him to the DWTS party, said, "I've seen him now in makeup and eyeliner. It's incredible. I joke to him, 'every week you're somebody else.' He's worked so hard. I'm so proud of him."
However, Eliza admitted to OK! Rick's six to seven hour a day rehearsals have been tough: "I totally miss him. I'm not going to lie but I know it's all accumulating into such an incredible package. I've had a little help from my friends."
Article continues below advertisement
DWTS WATCH: BRANDY TRIUMPHS; JENNIFER GREY TANKS
Kurt Warner and his partner Anna Trebunskaya tied Rick and Cheryl as they made Emmitt Smith's tango (with Cheryl Burke) their own. Judge Bruno Tonioli called Kurt "suave and confident." The pair wound up with a strong 61 out of 70 points for the combined dances.
After the show, Kurt told OK! "I thought tonight was a ball. It was great to see all the celebrities and all the past things that have happened on the show." Kurt thought it was "cool" having his fellow football player Emmitt cheering him on. And for him, the team dance was "just about having a good time. Anna was all worried about the technique, but I wasn't."
Corey in the House actor Kyle Massey and partner Lacey Schwimmer were assigned the paso doble based on Mel B's unforgettably sexy dance with Maksim Chmerkovskiy. Kyle and Lacey got a combined score of 59 out of 70 for the group and individual parts of the night. Judge Len Goodman called the paso Kyle's best dance.
At the DWTS party, Kyle joked to OK! about imitating hunky Maks: "It was hard because I took a poll and nine times out of ten, people said I was sexier than Maks. I really had to turn my sexy down." But his pro Lacey explained simply, "It was a kick butt routine. It worked!"
Article continues below advertisement
Bristol Palin and Mark Ballas were told to reinterpret the beloved Viennese waltz of Kelly Osbourne and her partner Louis Van Amstel. Kelly loved it -- while Judge Carrie Ann Inaba praised Bristol as endearing but added, "You're still slightly detached." She ended up with 57 out of 70 for the two dances.
After the show, Bristol told reporters, "I thought it went well. Kelly's comments were sweet. I think I had big shoes to fill with doing the dance but I had fun with it." The politician's daughter admitted, however, that Kelly's original was hard to beat: "It was so touching and emotional for her and her family and it's impossible to recreate something like that."
Bristol told OK! that Kelly, who made it to the DWTS finale, gave her some advice: "She just says that I need to keep showing who I am, just smiling and having fun with this whole thing and she knows exactly where I'm coming from, with no dance experience, and we both were thrown out in the spotlight even when we didn't want to be -- and we have a lot in common with that."
She wants people to know that: "I'm working my butt off, working my a-s-s off, doing the best that I can every week."
Article continues below advertisement
OK! GALLERY: DWTS CONTESTANTS HAM IT UP ON THE RED CARPET
Although Bristol is Sarah Palin's daughter and the big midterm elections are taking place Tuesday, she told OK! she's avoiding the hubbub: "I'm definitely not a political analyst. I'm trying to figure out a dance before I can begin to think about politics!" She even admitted she hasn't voted for herself and Mark on DWTS! "I'm going to have to, though. I think, out of the entire cast, I do the least amount of campaigning through this entire thing."
But, win or lose on Tuesday's DWTS, she looks forward to seeing her mom's upcoming reality show Sarah Palin's Alaska, on TLC, clear up some misconceptions: "that my mom's a diva, 'cause she's not. It will show just how real my family is. We're off the cuff."
Although Bristol doesn't campaign like her mom, she's fighting for survival on DWTS. Tune in Tuesday night to see if her low score sends her home to Alaska — or if she gets yet another shot at the mirror ball trophy in Hollywood!