NEWS
'DWTS' WATCH: Jennifer Grey Triumphs Over Knee Injury; Maksim Chmerkovskiy Talks Back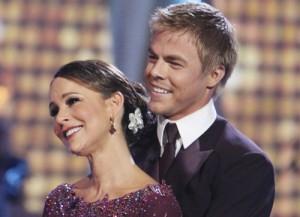 With only five remaining teams left on Dancing with the Stars, contestants first performed individual team dances and then were challenged with an instant dance for round two, leaving Brandy with Maksim Chmerkovskiy and Jennifer Grey, despite a knee injury, with Derek Hough on top of the leader board.
While Kyle Massey and Lacey Schwimmer raked in all nines from the judges on their individual Viennese Waltz, Brandy and Maksim triumphed with two 10s and score of 29 in the first round. Jennifer and Derek stayed close with a total of 27 for their Quick Step despite a faulty knee.
Article continues below advertisement
OK! NEWS: 'DANCING WITH THE STARS' CELEBRATES ITS' 200TH EPISODE
Jennifer almost quit the competition when she found out that she had "tendonitis," but told OK! how she will maintain her strength to finish out the competition.
"I have actually had an MRI this week and I know exactly what's wrong with it and I can not inject anymore. All I can do is ice it and put a brace on it so I just took the brace off for the show and I do Lidoderm patches and I am just going to have it checked all of the time," Jennifer confidently told OK! after the show.
And Derek agreed that his partner can pull through saying confidently that, "She has an amazing pain threshold."
OK! NEWS: 'DWTS' WATCH: BRANDY & JENNIFER TIE FOR FIRST
For round two, contestants faced a difficult challenge as they were only given their dance style beforehand, but picked out their song randomly after the first performance.
With only 20 minutes to prepare, Kyle and Lacey actually wowed the judges with their Jive to "Good Golly Miss Molly," raking in three unanimous tens! Jennifer and Derek remained on top with their Rumba to "Waiting for a Girl Like You."
Article continues below advertisement
In the lead, as well, Brandy and Maks stayed strong with their Cha Cha to Katy Perry's "Teenage Dream," but Maks almost lost his cool when Carrie Ann Inaba started to judge his efforts rather than Brandy's and the pro spoke back on live TV. "Relax, don't worry about it," he retorted when the judges critiqued his choreography for the quick challenge.
"This isn't my show. When it's going to be Dancing with Maks, it's going to be different. You can criticize me and talk about me all you want, but if you're going to criticize choice of choreography, it has nothing to do with Brandy... why even take the spotlight away from her?...It wasn't necessary. The comment was stupid," Maks explained to reporters after the show.
OK! NEWS: 'DWTS' WATCH: AUDRINA WALTZES TO THE TOP WITH TRIBUTE DANCE
Brandy tried to calm Maks down and explained that they support each other.
Brandy told OK!, "We're friends so we calm each other down, but we got each other's back and I just think Maks is coming from and honest, passionate place… I would do the same for him."
Bristol Palin and Mark Ballas stayed in the same position as last week, taking in another three eights from the judges from their scandalous individual Argentine Tango and a score of 23 from their instant song to "Mas Que Nada."
Article continues below advertisement
OK! NEWS: 'DWTS' WATCH: JENNIFER GRAY TANGOS TO THE TOP
"Is it lap dancing scandalous?" Sarah Palin asked her daughter during rehearsals.
Maybe the team's lack to improve their scores, despite a shocking performance, was what prompted Bristol to finally vote for herself. "I voted last week," the mom of one told OK! on Monday.
Kurt Warner and Anna Trebunskaya also stayed neutral with three eights for their Waltz and received the same scores for their instant Rumba to Gwen Stefani's "Hella Good."
But overall, it was Jennifer and Brandy who rose to the top again and are still frontrunners for the finale!