NEWS
Ed Westwick & Jessica Szohr's Romance Back On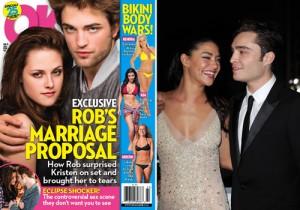 While Gossip Girl co-stars Ed Westwick and Jessica Szohr suffered a rocky patch in their relationship when rumors of an affair came out, the 22-year-old hunk seems to have forgiven his girlfriend.
Wandering through an outdoor L.A. shopping mall together on May 12, Jessica and Ed confirmed what a friend told OK! about the couple trying to work things out.
"Friends convinced them to be adult and talk things through. They still love each other and Jessica hopes they can work out their problems," a pal revealed to OK!.
Article continues below advertisement
LUNCHTIME LOWDOWN: ED WESTWICK AND JESSICA SZOHR SPLIT
Strolling through the Grove holding hands, after a nice lunch at the Farm, the back-on couple enjoyed some retail therapy at J. Crew and the Apple store.
"They're just seeing where things go," a longtime friend told OK!. "It was a mess for a while. Ed wasn't even speaking to her."
LOVEBIRDS ED WESTWICK AND JESSICA SZOHR PARTY IN MIAMI
Even though "Ed wanted to leave or have his screen time reduced so he and Jessica were never in the same place at the same time," on their CW show, it looks like the duo have definitely made up.