NEWS
Eddie Murphy Pulls Out of Oscars Hosting Gig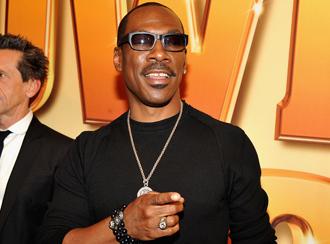 Many have speculated this would happen, and Eddie Murphy just made it official. The actor announced today that he would be withdrawing from his role as host of The 84th Annual Academy Awards, in the wake of losing his creative partner, Brett Ratner, who just exited his role as producer.
"First and foremost I want to say that I completely understand and support each party's decision with regard to a change of producers for this year's Academy Awards ceremony," Eddie said in a statement. "I was truly looking forward to being a part of the show that our production team and writers were just starting to develop, but I'm sure that the new production team and host will do an equally great job."
Article continues below advertisement
OK! NEWS: BRETT RATNER RESIGNS AS OSCAR SHOW PRODUCER
Motion Picture Arts and Sciences President Tom Sherak added in the press release, "I appreciate how Eddie feels about losing his creative partner, Brett Ratner, and we all wish him well."
Brett was tapped to produce the Academy Awards but came under fire when he used a gay slur during a weekend Q&A session about Tower Heist, his new feature, in which Eddie stars.
His actions in front of the media caused him to exit his producing gig.
"Over the last few days, I've gotten a well-deserved earful from many of the people I admire most in this industry, expressing their outrage and disappointment over the hurtful and stupid things I said in a number of recent media appearances," Brett said in a statement. "To them, and to everyone I've hurt and offended, I'd like to apologize publicly and unreservedly."
Article continues below advertisement
He added, "As a first step, I called Tom Sherak this morning and resigned as a producer of The 84th Academy Awards telecast. Being asked to help put on the Oscar show was the proudest moment of my career. But as painful as this may be for me, it would be worse if my association with the show were to be a distraction from the Academy and the high ideals it represents."
OK! NEWS: EDDIE MURPHY ON HOSTING THE OSCARS — "I'M NOT NERVOUS"
The Oscars ceremony will air live from the Kodak Theatre in Hollywood on Sunday, Feb. 26, 2012, on ABC. Who do you think should host the Oscars next?