NEWS
Elton John Battles Flu and E-Coli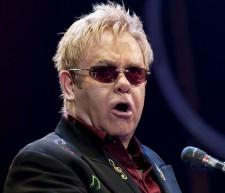 It's a bad time to be a middle-aged British rocker. First Morrissey collapsed onstage with breathing difficulties after performing in the British town of Swindon, then Eric Clapton pulled out of the Rock and Roll Hall of Fame Concert to recuperate from gallstone surgery. Now, Elton John is laid up with a double-dose of ill-health: Captain Fantastic has flu and E-coli poisoning.
Elton's rep, Gary Farrow, says the singer is recovering in hospital after canceling UK and Ireland concerts thanks to a ''bad case of the flu and a minor case of E-coli''. He has also postponed three Stateside dates.
Article continues below advertisement
The "Candle in the Wind" singer, 62, plans to rejoin the Face2Face tour later in the month when he and fellow piano man, Billy Joel, will perform in northern California.
Feel better Elton!