NEWS
Emily Maynard and Brad Womack: Their Shocking Reunion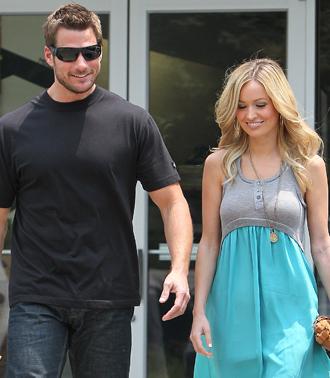 Apart from making her famous and fattening her bank account, reality TV hasn't always been kind to Emily Maynard, the onetime winner of The Bachelor who is now winnowing eligible men on The Bachelorette.
OK! NEWS: BACHELORETTE RECAP: JEF HOLM TAKES THE LEAD IN THE RACE FOR EMILY MAYNARD'S HEART
Of course, the single mom first won America's heart as a hard-luck story — Emily learned she was pregnant with her daughter Ricki, days after the child's NASCAR-driver father, Ricky Hendrick, died in a 2004 plane crash. That's why Bachelor fans were thrilled for the Charlotte, N.C., stay-at-home mommy last year when, on bended knee in a Cape Town, South Africa garden, Texas bar owner Brad Womack — in his second appearance on the show — slipped a $50,000 Neil Lane Diamond ring on her finger and said, among other things, "I'm asking you to give me your forever."
Article continues below advertisement
Forever turned out to be just a few months, Brad blamed himself — and his temper — for the breakup. But that didn't keep him from insulting Emily in May, when he told a Texas interviewer, "I think I dodged a bullet with that relationship."
But now Emily is in turmoil. Just when she thought she'd put Brad behind her, producers of the ABC show are secretly plotting a "reunion" between the pair for the "After the Final Rose" season wrap-up — supposedly a heart-to-heart in which Brad apologizes for his colossal insensitivity.
OK! NEWS: EMILY MAYNARD SHOULDN'T TRUST KALON MCMAHON ON THE BACHELORETTE
"Emily's hoping the reunion doesn't happen," a show insider tells OK!. "She really has no interest in seeing Brad. As far as she's concerned, that relationship was over for a long time, and she just wants to move on to the next chapter of her life and focus on her relationship with her fiancé."
FOR MORE ON EMILY AND BRAD, PICK UP THE NEW ISSUE OF OK!, ON SALE NOW!