NEWS
Emma Roberts & Hayden Panettiere Worried About Spilling 'Scream 4' Script Secrets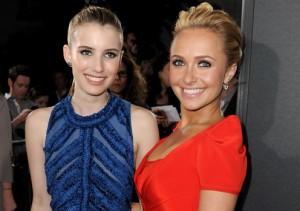 The stars of Scream 4 were under a lot of pressure to keep the plot of the film a secret, even though they were only given as little of the script as possible. Still, Emma Roberts and Hayden Panettiere panicked that they'd accidentally spill some script secrets!
OK! GALLERY: NEVE CAMPBELL & COURTENEY COX REUNITE FOR SCREAM 4 PREMIERE IN HOLLYWOOD
"I got the middle bit, the middle section," Hayden explained to MTV about how much of the script she was given. "I was in Germany and the filmmakers had somebody fly to Germany, meet me at home to watch me read the middle part of the script, so there was no beginning, no end, subject to change."
Article continues below advertisement
"There's just something very funny about somebody sitting there watching you read it to make sure you don't sneak pictures or go sending it anywhere," she said. "You feel like your life may be in jeopardy if, God forbid, anything got out."
OK! NEWS: DAVID ARQUETTE ON COURTENEY COX — "WE'LL BE TOGETHER FOREVER"
And Emma had the same concerns!
"When I first read the script, I had to read it at director Wes Craven's house," Emma explained. "So I couldn't even have it sent to my house. When we got our scripts on set, they all had our names on them and I remember I was getting out of my car to go to work one day and I dropped my script and, literally, the pages were everywhere and I was in this parking lot chasing after all of my pages and, of course, the last few pages were floating away from me."
"I grabbed them and brought them to my trailer, thinking, 'OK, I don't know what to do with all this paper, I'm so nervous to be carrying this around.' "
Well, it seems like they did a good job as Scream 4 hits theaters Friday!