NEWS
Emmys Remember: Chadwick Boseman, Ruth Bader Ginsburg And Others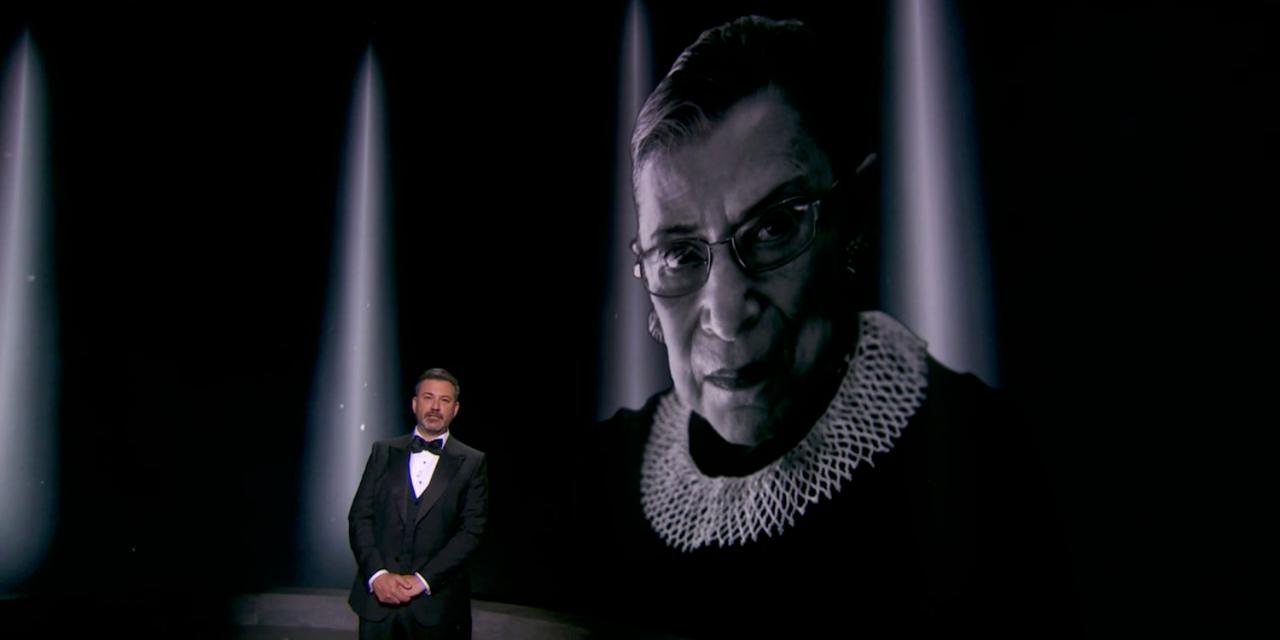 The 2020 Emmy Awards was held on Sunday, September 20, in Los Angeles and had an emotional start and ending. The event started by remembering the late Supreme Court Justice Ruth Bader Ginsberg and ended with honoring Chadwick Boseman — two lives lost in the past few months.
The show's In Memoriam segment reflected on the lives of these people, along with others. Host Jimmy Kimmel took the stage in what was an unusual event due to the pandemic without its general star-studded audience.
Article continues below advertisement
6 MOST MEMORABLE MOMENTS FROM 2020 MTV VMAS: HONORING CHADWICK BOSEMAN, 43, AFTER TRAGIC DEATH
The emotional segment was made even more poignant with a performance by the Grammy-winning recording artist H.E.R., who performed a rendition of 'Nothing Compares 2 U' by Prince. As the song played, the images and names of those who had passed in the recent time flashed on the screen.
During the introduction, Kimmel spoke about the loss of Ginsburg, who passed away on Friday, September 18, at the age of 87 due to health complications from metastatic pancreas cancer. Ginsburg had served the United States as an Associate Justice of the Supreme Court from 1993 until her death.
IT'S THE PANDEMMYS! FULL LIST OF 2020 EMMY AWARD WINNERS
"On Friday, we lost a great American," Kimmel said. "Ruth Bader Ginsburg was a passionate and tireless champion of equality and justice whose legacy was to make life a little better for people less fortunate than she."
"Sounds like pretty good words to live by to me," he added.
The performance by H.E.R., whose real name is Gabriella Wilson, started on the piano. The 23-year-old singer was wearing a cotton gown. She later played an electric guitar, the color of which matched with her dress.