NEWS
Erykah Badu Not In Trouble for Publicly Stripping in "Window Seat"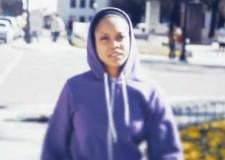 Erykah Badu shed her clothes for a moving and controversial music video. The R&B singer walked along a Dallas sidewalk taking off her clothing until she was nude and then fell (after a shot goes off) near where President Kennedy was assassinated. But despite her public nudity, she isn't in trouble with authorities.
Erykah said the video for "Window Seat" was "shot guerrilla style" with no crew and in one take on March 17, CNN reports.
Article continues below advertisement
Children and families are seen in the video walking around as Erykah stripped in Dealey Plaza, which has become a popular tourist spot since Kennedy's 1963 assassination.
OK! NEWS: ERYKAH BADU DEBUTS BABY NAME
Erykah responded to the controversy of stripping in front of children via her Twitter.
She Tweeted that "there were children there. i prayed they wouldnt b traumatized."
Fortunately, Erykah will not face indecent-exposure charges for shedding her clothes on the Dallas sidewalk, a Dallas Police spokeswoman told CNN.
Although children were nearby, no one filed a complaint against Erykah after the March 17 incident, Dallas Police Senior Corporal Janice Crowther said.
OK! NEWS: ERYKAH BADU BLOGS BABY BIRTH
"But if we had had a call and would have caught Ms. Badu in the act of walking down the street taking her clothes off, she would have been charged with a Class B misdemeanor," she said.
Erykah said her video had a purpose and she was making a statement against "groupthink," which she Tweeted was an "unwritten rule" that "i will not express my true opinion if it opposes those i love and fear."