NEWS
Everything We Learned from The Real Housewives of Miami Reunion, Part 1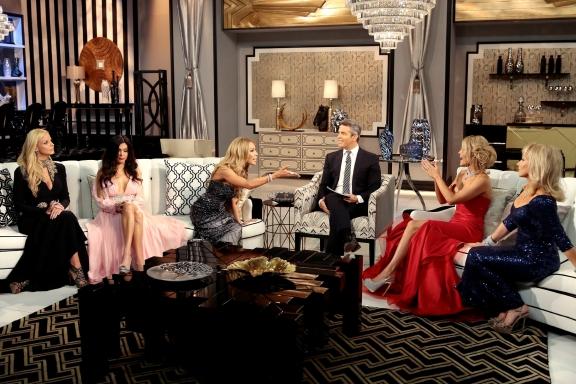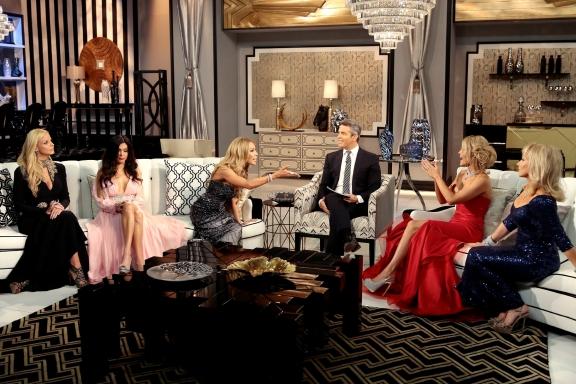 The Real Housewives of Miami reunion gets off to a rocky start even though it feels like Andy Cohen is going easy on them at the start of the show.
For some reason Lisa Hochstein's comment that no one in Miami works sets Joanna off. Look, I understand that Lea, Alexia, Joanna and (I think) Adriana have jobs, but it's not like anyone here is working in the coal mines. And this is the Real Housewives, technically Lisa is the only one who is actually a housewife on this show, so lay off. Why do I feel like I'm going to be defending Lisa a lot during this reunion?
Article continues below advertisement
Watch: Lisa Hochstein Says She Has Nothing To Hide at the RHOM Reunion
Moving right along—the weddings. Adriana is confronted about being incredibly late on her big day and the whole making guests change for the reception fiasco. She kind of just accepts it, then admits she thought Joanna's dress looked more appropriate for a flamenco dancer. I liked both dresses. I could never pull off J's dress but it looked great on her. And Adriana's dress was stunning. But no one asked my opinion so onto the next conflict…
Lisa and Joanna get into it when Andy addresses the ups and downs of their friendship this season, especially after a montage of Joanna making digs about Lisa's lack of a job. And then we revisit the Birkin Bag controversy. People—if the woman has the money to buy a Birkin, let her buy a Birkin. Is it a ridiculous splurge? To us common folk, yes, but if she can afford it, why do we care?
OK! News: Yolanda Foster Reveals How She's Coping With Lyme Disease
Article continues below advertisement
Then it really gets personal—Andy brings up comments Joanna made referencing Lisa's infertility struggles. She suggests maybe Lisa should stop partying to improve her health in order to get pregnant. Not cool, Joanna. Not. Cool. This hostility between Joanna and Lisa is giving me a major case of the sads. I want them to be friends.
And what's this business that Joanna is the woman responsible for breaking up Yolanda Foster's marriage to Mohammed? I didn't even spot Mohammed during any of Joanna's wedding scenes. That man shows up all over Bravo! It's like playing a game of Where's Waldo?
Hold up—now Adriana is implying Romain is gay? This reunion went from zero to crazy in under 60 seconds. I'm going to need one of those Lea Black facials to decompress after this hour.
OK! News: Joyce Giraud de Ohoven Tells Us How To Get her Luscious Locks
It's Adriana and Lea time. In a completely convoluted way, Adriana kinda sorta cops to lying about being married to Frederic. She's also sticking with her story that Lea had nothing to do with keeping her son Alex in his private school. But Lea has copies of some checks to the school and a much more palatable story.
The ladies break for makeup touch-ups and all of a sudden there's a situation between Lisa and Joanna's makeup artist Tony, who is saying all kinds of nasty things to her for reasons unbeknownst to viewers at home.
Next week Lisa strikes back at Joanna with some hooker comments, Adriana talks a lot and we reconnect with Marysol. Buckle up, kids, it's going to be a bumpy ride.
Whose side are you taking at the reunion? Tell us in the comments or tweet @OKMagazine.