NEWS
Ex-Bachelorette Ali Fedotowsky Gives Emily Maynard Advice on Which Man to Choose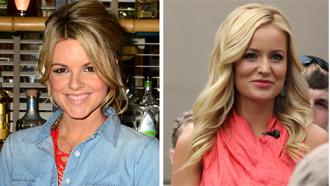 Seasoned Bachelorette contestant Ali Fedotowsky sat down with OK! to give us an exclusive take on whom current Bachelorette Emily Maynard should pick and as her lifelong mate and why.
OK! GALLERIES: ALI FEDOTOWSKY CRACKS UP IN CALI
We all remember how Ali chose insurance agent Roberto Martinez, only to break off the engagement a few short months later. Sources claimed the duo were prone to nasty fights and at the end of the day not compatible. While she refuses to talk about Roberto (who's rumored to be the upcoming Bachelor), her very public split gives her some added insight on the whole selection process.
Article continues below advertisement
So who does she think Emily should choose?
"Okay, I keep going back and forth. Like, literally, I've changed my mind 500 times," she told OK!.
While Ali first thought it was either Jef or Arie, she now says she's completely ruled out Arie and doesn't think Jef is ready for kids. In fact, she likens Emily's relationship to Jef as similar to hers with Chris Lambton.
"This is a confusing season for me! Because she keeps saying that her relationship with Jef is slow to develop – and that's what I always used to say about Chris. I mean, Chris is a great guy, awesome guy and he's married now!" she said. "I always used to say – because we knew our relationship wasn't romantic…. We were friends! I said, 'Our relationship is a little slow to develop.' That's like code on The Bachelorette for 'we're really just not romantically into each other.'"