NEWS
EXCLUSIVE: Ben and Emily Huh of Bravo's 'LOLWork' Talk to Us About Successful Celebrity Memes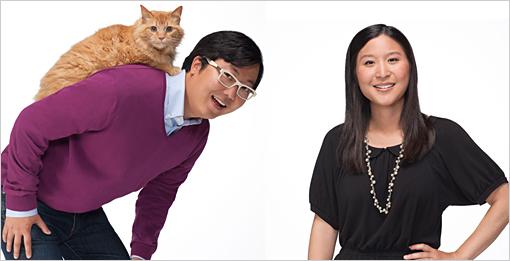 LOLwork, a behind-the-scenes look at the Seattle staff behind the popular ICanHasCheezburger? (a blog devoted entirely to animal memes) debuts tonight on Bravo at 11pm and we got the chance to chat with CEO Ben Huh and the site's editor-in-chief, his wife, Emily Huh.
OK! GALLERY: THE REAL HOUSEWIVES OF BEVERLY HILLS DAZZLE AT THE SEASON THREE PREMIERE
While kitty memes may seem like silly stuff, Ben saw the business potential in Cheezburger, formed an investment group and bought the site in 2007. Since then he's watched the blog mushroom and has formed a whole empire of funny, including 50 other humor sites (including FAIL blog and The Daily What), who aim to "make the world laugh for 5 minutes a day."
Article continues below advertisement
OK!: I know ICanHasCheezburger is purely animal memes, but which celebrity do you think makes the best meme?
BH: Any celebrity who's pretty big has a sizable meme collection, but I have to go with Leonardo DiCaprio. The expressions he does in Inception and the caricature that was Titanic, the biggest blockbuster ever and now in 3-D, the scene where he's painting Kate Winslet...he's a good actor but he also shows up in a lot of memes. Keanu Reeves was actually one of the first actors who got meme-afied, but Leo is turned into more types of memes. Lady Gaga has a huge amount, Justin Bieber and even Anderson Cooper. Oh, and Lindsay Lohan who just can't seem to stay out of the news.
Article continues below advertisement
EH: We get about 20, 000 submissions a day, but that's not just of animals. Of purely animals I would say we get about 5 or 6, 000.
OK! What's your veto procees? I saw on the teaser that the staff debated for a long time over a sleeping cat that looked like it might be dead.
BH: We keep in mind what we've learned from the past and which risks are worth taking and which aren't. I'm pretty sure we have a discussion like that over a photo every couple of months when there's new staff.
OK! This is the Bravo network — do you have an office diva? Someone who causes the most trouble?
BH: In the office we have a "no drama rule." We're a business and we want things to run smoothly and I think that's what makes us unique. It's not about the drama, but rather how serious we are about the crazy things we have to deal with. We get plenty of drama from the outside world.
OK! GALLERY: TERESA GIUDICE, CAMILLE GRAMMER AND OUR LIST OF REAL HOUSEWIFE VILLAINS
OK! The work is obviously highly creative. Are there ways you foster creativity within the office?
BH: We try to give people flexibility and freedom and try to allow room for failure. That way if people take risks, they aren't punished for it. We fail a lot and you'll see that on the show.
RELATED NEWS
CELEBRITY CHEF CAT CORA BOOKED FOR A DUI