NEWS
Exclusive: As Original Bachelorette Stars Trista and Ryan Sutter Prepare for Their 10th Anniversary, Trista Tells OK!, "We'll Never Say Never" to Reality TV!"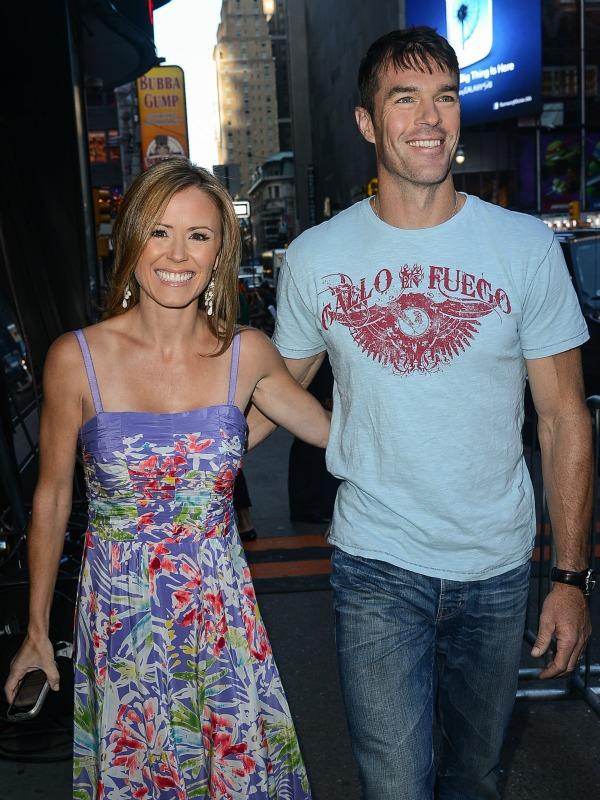 Welcome back to Bachelor Week on OK! After our amazing evening at the Bachelor Mansion on Friday night, we're bringing you exclusive interviews with some of the most beloved stars of The Bachelor and The Bachelorette! Monday we introduced you to new Bachelor Sean Lowe and yesterday, Bachelorette Emily Maynard opened up about why she's putting love on hold—for now.
Well, today, we have our heart-to-heart with the original Bachelorette Trista Sutter. We watched her find her soul mate Ryan Sutter on the show and then get married in the first televised wedding of the franchise in 2003. The couple now have two children and will celebrate their tenth, yes tenth, wedding anniversary this December! It's no wonder every contestant who has ever been on the show looks up to them. They found what everyone on the show wants—true love!
Article continues below advertisement
Read on as Trista tells OK! about what makes her marriage work and her possible plans to return to reality TV!
OK!: What does it feel like to be back here with the newer generation of the show you really began?
Trista Sutter: I feel honored, it really is an honor for me to still be in the mix, to be still part of the family because it was so long ago. It really truly was. Sean and I were handing out roses as the press walked in tonight and he's 29 and I'm 40, there's a huge.
OK!: You're not 40!?
TS: I'm 40, I just turned 40 in October. It's not just the age difference alone but the life experience too.
OK!: All the Bachelor and Bachelorette stars really look up to you because you did it. You found your fairy tale.
TS: 
I did. But the thing is, is that I don't want people to think that I'm holier than thou and above everyone. I just want it for everyone. I want everyone to find their happy ending. I'm hopeful with every season that everyone does.
Article continues below advertisement

OK!: But so many haven't found it on the show. What do you think that you and Ryan do right—or what is everyone else doing wrong?
TS: No ones doing anything wrong. I think that everyone meets people and if it works it works, if it doesn't it doesn't. Ryan and I were totally compatible. We love each other, we like each other, we're best friends. We have similar values. We respect each other, support each other. We were lucky, I think we were watched over. There are just so many things that happened with Ryan and I that maybe one thing was out of place with these other couples. And you never know and it's not that it's bad or a failure, it's a progression. Its progress, when a relationship doesn't work you move onto the next and you use those as learning experiences. That's how I look at it at least. 

OK!: Does anyone ever call you for advice before they go on the show? What is your advice to them?
TS: Oh I've talked to many, many. Most. Even people like Melissa Rycroft, who was asked to be the Bachelorette but she ended up declining. I've talked to a bunch of people beforehand who may or may not have done it and the fact that the matter is for me, it worked. I would not have my husband, I would not be his wife. I would not be the mother to my two beautiful children. I would not have a life in Colorado that I know and love. My life would not exist as we know it. So clearly I am a proponent. Yes, reality television is not necessarily all warm and fuzzy moments. There are haters out there and there are people who don't appreciate it but I have, in my daily life, I have love and a life that I cant even imagine not living it. So I am so bottom line grateful.
Article continues below advertisement
OK!: Your ten-year anniversary is coming up. That is such a huge milestone for any relationship. How do you make it work?
TS: Ten years this December. Ten years together, ten years married this December. I think you just grow and you change and you have to be moldable. You have to work very hard. Marriage is not something you just, it's not roses everyday. 

OK!: When it's not a rosy day, what are you guys fighting about?
TS: It's so stupid. It's just the stress of normal daily life. You just have your moments where you're getting along swimmingly and you have your moments where you are just on edge and you don't get along with anyone.
OK!: Are you at a point where you can fight and get past it easily?
TS: Yes, maybe three years ago, I would have said, 'Hmmmm, Oh God we're fighting! Is this the end of it?' Now, it's like we're fighting and tomorrow we'll be fine. Now, I feel like we're just having an argument or a bad day. We need to take a break and we need to just talk through it. It's fine, we've been through really difficult times and we've been through really happy times. Both of them are stressful. On questionnaires, they always ask you if you've been through any life changing moments and the happy and the bad are part of that so its all stressful. But, I think if you're grounded, grateful, remember the love that you have for each other. . . and you respect each other and you trust each other. Humor is a part of it too. Those are the foundations that you need to have and we have those and we've worked to maintain them.
Article continues below advertisement
OK!: Would you ever put your life back on reality TV?
TS: Not on the Bachelor or Bachelorette!
OK!: Of course not, but what about your life now with Ryan and your children?
TS: We've been approached by multiple people, we've talked about it. We had a contract at one point in time. There are certain things we wont do, like the birth of my daughter. I just didn't want that on television. We're ones to never say never. If something comes across to us and if it fits with our schedule and our personality and it fits with what we want to show to the world then yeah. We've talked about doing a 10-year celebration or renewal of our vows on TV or something.
OK!: Where would you renew your vows? Here at the mansion?
TS: No. We were in Palm Springs when we got married so maybe we'd go back there. I don't know. Maybe it's on a beach? It would also celebrate the franchise and celebrate the fact that the show has been around for a decade. That's insane and monumental. It's iconic.
What do you love most about Trista and Ryan's love story? Tell us in the comments below or Tweet @OKMagazine! And be sure to check back tomorrow for our chat with Molly Mesnick who is expecting her first child with Bachelor Jason Mesnick!