NEWS
Exclusive: Real Housewives of Miami Star Marysol Patton Tells OK! 'Helping Anyone in the Cast Is Not Something I Plan On Doing Again!'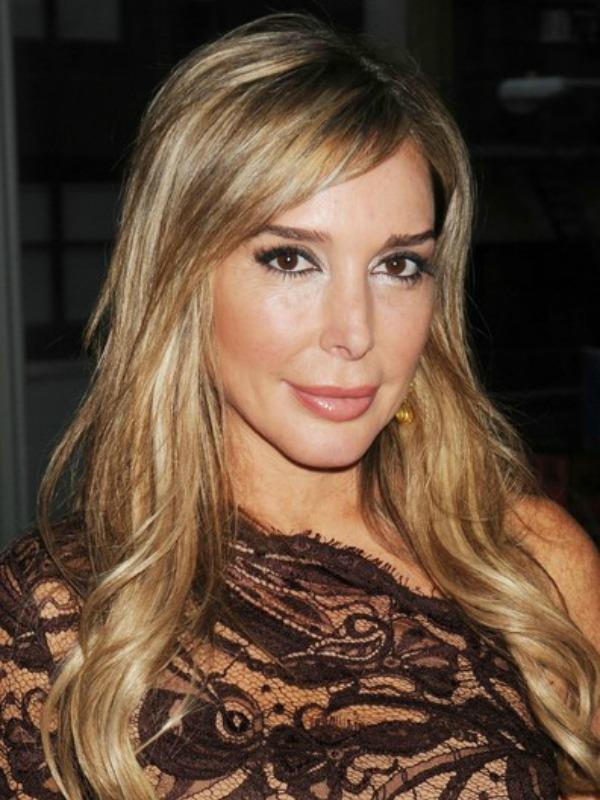 It was quite the ride for Real Housewives of Miami star Marysol Patton this season as we saw her go through two painful break-ups. First was the devastating end to her marriage (we watched her marry Phillipe in season one) and of course the end of her personal and professional relationship with fellow housewife Lea Black. Some would accuse Marysol of looking weak this year, but she's fighting back now! Before part two of the dramatic Real Housewives of Miami reunion airs tonight at 9 p.m. ET on Bravo, Marysol spilled all to OK!—from the moments she regrets to where all her relationships stand to how her Mama Elsa—the breakout star of the show— has influenced her life for the better!
Article continues below advertisement
OK!: What is best advice you ever received from your mom?
Marysol Patton: Never give a man more than you receive from him.
OK!: What is most embarrassing thing your mom has done on camera?
MP: Playing with the box of rice—that scene kind of embarrassed me.
OK!: What has your mom taught you about style and beauty?
MP: Mom taught me never to wear much make up, sit up straight, be very polite and always accessorize with jewelry—lots of jewels. Good jewelry will turn jeans and a t-shirt into a chic outfit.
RELATED: THE BEST DRESSED HOUSEWIVES OF 2012
OK!: Do you have any regrets from this season?
MP: I regret hugging Lea back in Bimini and telling her that I missed her friendship. I was extremely stressed and emotionally drained at that point and I just succumbed to a million emotions that were inside of me.
OK!: Where does your relationship stand with Lea today?
MP: We do not have a relationship.
OK!: What do you wish you had said to her that you didn't?
Article continues below advertisement
MP: "I can't believe how much you constantly lie—its flabbergasting."
OK!: What were you most proud of this season?
MP: I'm always proud to film scenes with my mother, they are always so much fun and the most genuine.
RELATED: THE REAL HOUSEWIVES OF MIAMI'S ADRIANA DE MOURA SPILLS HER STYLE SECRETS TO OK!
OK!: There was a lot of turmoil between you and your husband Philippe on whether or not you were going to get divorced or stay married. Where does your relationship with him stand today?
MP: I always wish him the best and hope that he finds someone to love him the way he deserves.
OK!: Where do you think your relationship with him will be in five years?
MP: I think in five years I probably will not have much communication with Philippe. I've been married before and in several long committed relationships and things just fizzle and people's lives go in different directions. That doesn't mean that I have stopped caring for him or any of my exes, it just means I have other priorities in my life.
Article continues below advertisement
OK!: Do you think the camera/show affected your relationship?
MP: Doing a reality show can definitely cause strain in a relationship. I think the best advice I can give is to always have open lines of communication with your partner so that things do not fester and implode. You need to tell your partner what is going on and how you feel and of course listen to them as well. It is through this openness that actions and words will not become misconstrued and ultimately become issues of resentment. It is also important to take time to live your life away from the cameras and not discuss anything related to the filming/drama.
OK!: We saw you sleep in freezing cold to preserve your skin. Who taught you that trick and what other unusual beauty regimes do you follow?
MP: I have read quite a bit about cryogenics so that is where I came up with the idea of turning my apartment into my own cryogenics tank. I am a very low maintenance girl, I cleanse my face 2x a day and constantly moisturize. I get Botox about once every 4 months and that's it. I do not eat very well, and I never exercise. I can get ready -- hair/make-up and dressed -- and out the door in 20 minutes. My exes always found it unbelievable how quickly I could get ready, they all assumed I would take hours.
Article continues below advertisement
RELATED: THE REAL HOUSEWIVES OF MIAMI REVEAL TO ANDY COHEN THEIR PORN STAR NAMES
OK!: Which cast mate's closet do you most want to raid and why?
MP: Alexia's, she has the best clothes.
OK!: Which of your cast mate do you think needs your PR help the most?
MP: Helping anyone in the cast is not something I plan on doing ever again.
OK!: Which cast mate is your mom the most wary of and why?
MP: Hmmm I'm not sure because she can't seem to remember who any of them are except for Alexia, Adriana and Lea.
Article continues below advertisement
OK!: Which of your cast mates are you closest to?
MP: Alexia and I have been friends for 14 years now, we have always had a really nice relationship full of love, care and true enjoyment of each other's company.
OK!: Which cast mate from ANOTHER city would you most want to come to Miami and why?
MP: NeNe Leakes would be amazing in the Miami show, she would bring some order to the chaos as well as some good times and fab humor.
OK!: And finally, which boyfriend/husband from ANY city is the hottest among all the housewives?
MP: I think Ramona Singer's husband Mario is quite sexy.
What did you think of all the drama Marysol--and the rest of the Real Housewives of Miami—endured this season? Tell us your thoughts in the comments section below or tweet to @okmagazine!