NEWS
Exclusive: 'RHOC' Star Gretchen Rossi Reveals Her Workout Tips & Explains the Jack in the Box Outings!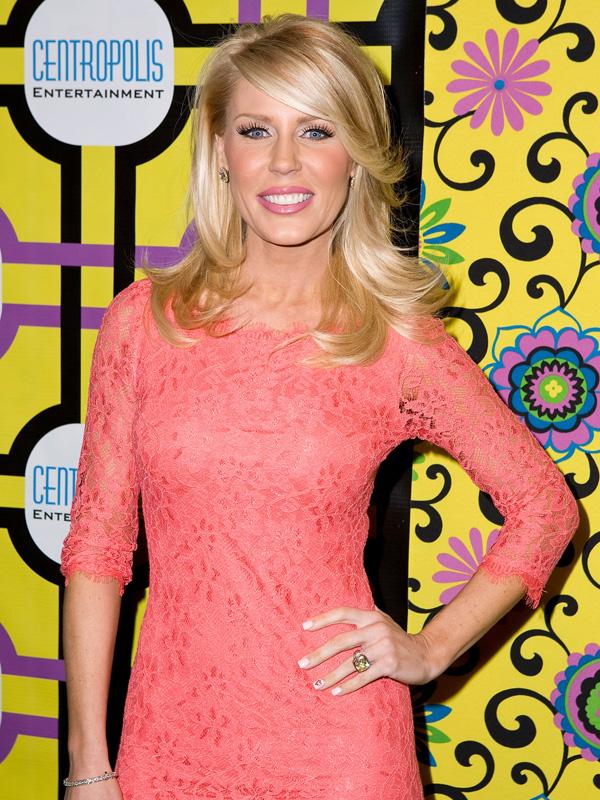 When I think of Gretchen Rossi I think blond, pretty and thin so of course when I chatted with her recently I had to ask what she does to keep so slender.
The Real Housewives of Orange County star revealed all of her diet and work out secrets, but that's not all.
For all of you who Tweet her about her Jack in the Box outings, she dishes on what that's all about!
Article continues below advertisement
OK! How do you stay in such great shape?
Gretchen Rossi: It truly is about moderation. It took me literally 30 years to get that concept. I am very in tune with my body now and I know when I need to watch what I'm eating or when I can allow myself to indulge. In the last five years I've been in the best shape of my life and I haven't dieted and that's the first time that I've ever been in good shape. I've learned to just allow myself to just be. I've learned that my body has these patterns now. When it's right before my period I just feel really gross and bloated and I get so hungry. I eat anything and everything for the entire week and I've just allowed myself to not feel guilty about those things anymore because I know as soon as my period is over I'm going to feel great again. So you have to get in tune with your body and learn to just be in those different stages of that month of whatever stages your body is going through. Being in shape and being healthy is mind, body and spirit.
OK! Do you work out?
GR: I have weights all over my house. I have weights in my living room, office, master bedroom, in the closet next to the kitchen. Because I work so much I don't have time anymore to dedicate an hour or two at the gym. Throughout my daily routine I will pick up my weights and do a couple sets of bicep curls or I'll do pushups. I fit in my exercise routine all day long. I'm downstairs in the kitchen straining the spaghetti and I'm doing a bicep curl. I know it sounds crazy, but it takes the pressure off, 'Oh my gosh I haven't worked out!'
Article continues below advertisement
OK! GALLERY: 'THE REAL HOUSEWIVES OF BEVERLY HILLS' DAZZLE AT THE SEASON THREE PREMIERE PARTY
OK! What size weights do you use?
GR: The weights vary from 5-10 pounds. You don't even needs weights though. I can't tell you how many times I've traveled and I've picked up a lamp and use that to do a bicep curl.
OK! What's your diet like? Do you avoid certain foods?
GR: I allow myself to eat anything and everything. I've really learned that when I deprive myself of something it becomes an issue so I cannot deprive myself of something when I want it. I've had to retrain my thought process just to have a couple bites of something. If I go out to dinner and I want to have the steak and potatoes and the mac and cheese side or whatever it is, I will have a bite of every little thing, but I won't have two or three helpings. I will usually split a steak with Slade or my mom or whomever I'm out to dinner with. There's ways to cut down your portions. People who see me a lot see that I eat a lot and they ask me how I do it and I say that's the key. What people don't realize is that you need to fuel your body and that's what keeps your metabolisms going. I literally eat every two to three hours. All day long I'm eating.
OK! GALLERY: CAMILLE GRAMMER, TERESA GIUDICE & OUR LIST OF THE BIGGEST REAL HOUSEWIVES VILLAINS
OK! What's a standard breakfast, lunch and dinner for you?
GR: For breakfast I'll usually have yogurt and granola or turkey bacon or I'll have hard-boiled eggs or I'll have over easy eggs. I don't do the egg whites because I feel like the yolk is really good for your body. I feel like when I eat the yolk it helps keep my hair shiny. For lunch, I typically just make a sandwich here at home with turkey and lettuce. If I feel crazy I will put other meats in there. I love mustard so I'll add that and that's a normal lunch for me if I'm home. If I'm out I'll have a salad or salmon. The same thing goes for dinner. I rotate through my food, which sounds funny, but one night a week I'll have fish. Another night I'll have chicken, another night I'll have meat and then every couple of weeks I'll have more of a starchy dinner like pasta or I'll eat pizza. I'll always try to have some sort of a vegetable with dinner. I love red and green squash with olive and salt and pepper.
Article continues below advertisement
OK! Do you ever eat fast food?
GR: It's so funny because I get all these Tweets about when people see me on the show and they're like, 'You're always driving through Jack in the Box!' I laugh because most of the time we're driving through Jack in the Box it's because we're filming so much and we haven't eaten that day and it's like, 'We have to eat some food!' So we go through a drive through and it always happens to be Jack in the Box! It's not like I'm eating there every day. It's maybe once a month at the most.
OK! What would you like to say to your fans?
GR: I want to make sure people know they need to just give themselves a break. In time they will get to a great place. I think people get so skewed by Hollywood and they see all of us in these magazines and we're PhotoShopped or whatever and people think, 'Oh gosh if only I could look like that,' and the truth of the matter is I am the same as they are. I wake up every day and I struggle. I feel fat some days and it's just really having a healthy lifestyle and giving yourself a break.