NEWS
Exclusive: Sports Illustrated Model Nina Agdal Shares Her Reaction to Her Sexy Carl's Jr. Super Bowl Commercial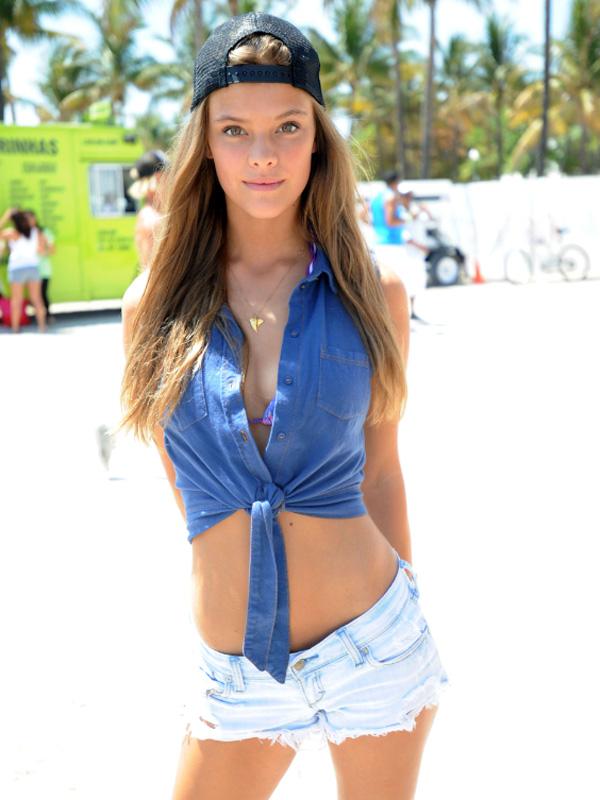 Nina Agdal may only be 20, but her career is off to a banging start! She won Sports Illustrated Swimsuit Rookie of the year 2012, will be back in SI 2013 issue and is the current face of Aerie by American Eagle.
She will be hosting The Dirty Dutch Model Beach Volleyball Tournament (MBVT) presented by Bimini Bay Resort in association with the National Volleyball League (NVL) Feb 9 & 10 and she's also in a Carl's Jr. commercial that will air during the Super Bowl Feb 3.
Article continues below advertisement
We chatted with her about how she stays in such great shape for her modeling gigs and what it's like to be in a Super Bowl commercial!
OK! What was your reaction when you heard your commercial was going to play during the Super Bowl?
Nina Agdal: I'm not an American so I'm not so familiar with Super Bowl, so I googled it and that's when i realized how big of a deal it was. I got very excited!
OK! How did you get in shape for the Carl's Jr. shoot?
NA: For me, it's not like I get in shape for each shoot. It's more a lifestyle. I eat whatever I want but in moderation. If I do have an important swimsuit/lingerie job, I might hit the gym a little harder than normal.
OK! What is your go to junk food?
NA: I love a good juicy burger or double cheeseburger, it's worth it to me.
OK! How often do you allow yourself to splurge with your diet?
NA: Whenever I want, but I'm always cautious of it.
Article continues below advertisement
OK! What foods do you try to avoid?
NA: As you might already noticed I'm a foodie. I don't avoid anything, but I feel healthier eating less white bread or pasta.
OK! What foods do you always include in your diet?
NA: Vegetables. Always.
OK! What do you normally eat for breakfast, lunch, dinner and snacks?
NA: Breakfast: oatmeal or eggs with a side of fruit. Lunch: protein and vegetables/salad and a little bit of good carbs like whole grain bread or pasta.
Dinner: mostly whatever I feel like but in a small portion. You're going to sleep anyways, you don't need much.
Snacks: Luna bars, nuts, fruit, vegetables dipped in humus.
OK! What is your workout routine like?
NA: 20-30 minutes of cardio followed by weights.
OK! Fave beauty product and why?
NA: I really like European Wax Center's Post Waxing Exfoliate. Its gives me a smooth skin which is important when my job is to wear either swimsuits or lingerie. I don't use a lot of products. I'm a big believer in naturals like water and sleep.
OK! How would you describe your sense of style?
NA: I wear what want. Some days I like to be girly and dress up, but most days I honestly enjoy covering myself up with sweatpants and a sweater. Maybe its because I'm partly naked when I work everyday! Haha
Are you excited to see Nina's Super Bowl Commercial? Tell us your thoughts @OKMagazine!