NEWS
Did Demi Lovato's Fiancé Really Slam Her in 2015? See Her Reaction!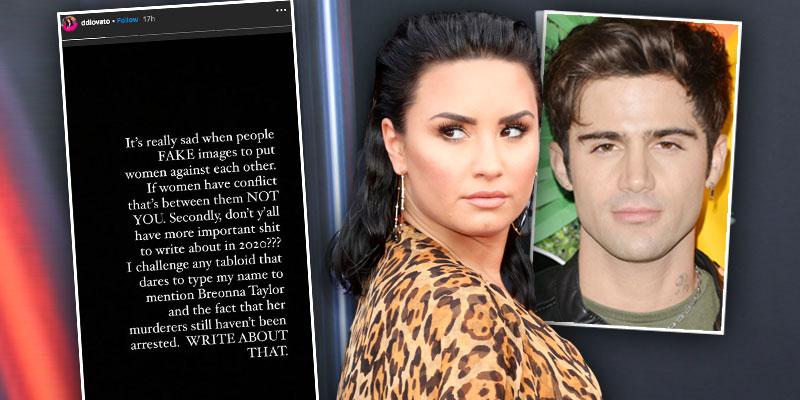 There's drama in paradise. Demi Lovato took to Instagram on Sunday, September 13, to shut down and debunk alleged posts and Instagram comments — pitting the star against former friend Selena Gomez — from her fiancé Max Ehrich, calling them "fake" and "doctored."
The 'OK Not To Be OK' singer posted a statement on her Instagram story calling it "really sad" when trolls on the Internet try pitting "women against each other" rather than posting about topics that matter. "Secondly, don't y'all have more important s**t to write about in 2020??? I challenge any tabloid that dares to type my name to mention Breonna Taylor and the fact that her murderers still haven't been arrested. WRITE ABOUT THAT," the 28-year-old wrote on social media.
Article continues below advertisement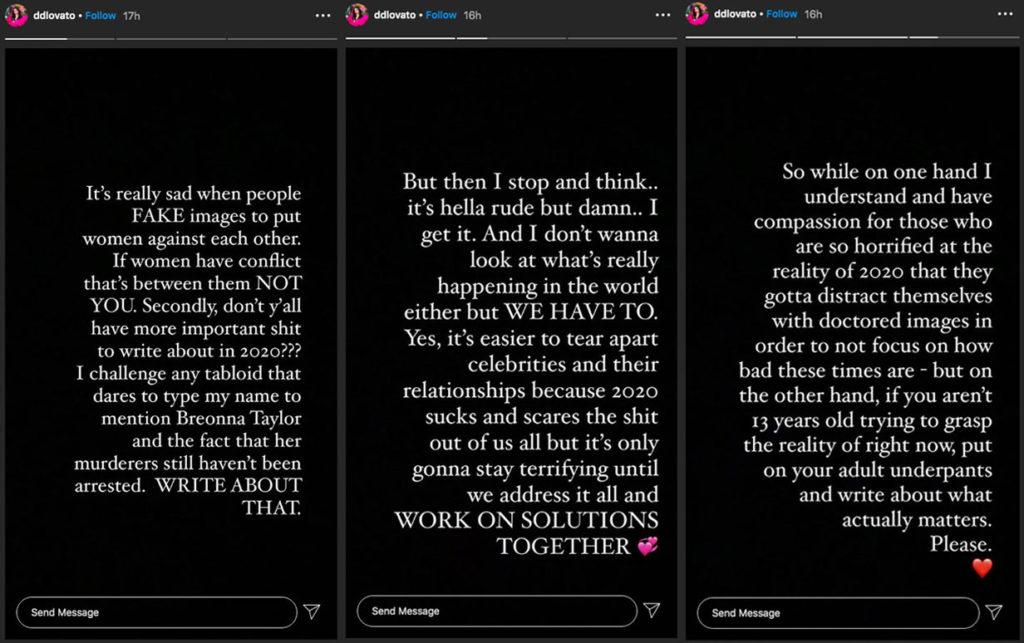 The post came after fans on Twitter circulated old screenshots and videos that showed 29-year-old Ehrich professing his love for Gomez — who is no longer friends with Lovato — and exclaiming he wanted to marry her.
HERE'S A LIST OF DEMI LOVATO'S DATING HISTORY
The Camp Rock star encouraged her 93.2M followers to come together and focus on more important issues while expressing that she has "compassion" for those trying to "distract themselves" during the horrific year of 2020 by making up celebrity gossip.
"I stop and think.. it's hella rude but damn.. I get it. And I don't wanna look at what's really happening in the world either but WE HAVE TO," she wrote. "Yes, it's easier to tear apart celebrities and their relationships because 2020 sucks and scares the s**t out of us all but it's only gonna stay terrifying until we address it all and WORK ON SOLUTIONS TOGETHER.
"So while on one hand I understand and have compassion for those who are so horrified at the reality of 2020 that they gotta distract themselves with doctored images in order to not focus on how bad these times are, but on the other hand, if you aren't 13 years old trying to grasp the reality of right now, put on your adult underpants and write about what actually matters. Please."
Article continues below advertisement
"Hahaha selena gomez and demi are cute together sic but boy if you think demi is prettier…you're WRONG!" one of the alleged tweets read. While another tweet did not mention his fiancé's name, Ehrich allegedly tweeted that he favored Gomez over Lovato: "There's a female singer that screams so much, that's why my girl S is better than you know who."
Earlier this year, the child star found an old tweet from her man in 2011 declaring that all he wants for Christmas is Lovato. "All I wanted for Christmas was Demi Lovato. #cantalwaysgetwhatyouwant...." he tweeted at the time. Re-sharing the throwback post, Lovato responded: "@maxehrich every Christmas? We love a little manifestation."
DEMI LOVATO CELEBRATES RETURN TO THE STAGE AFTER EMOTIONAL GRAMMYS PERFORMANCE
Article continues below advertisement
When speaking to Harper's Bazaar in April, the Sonny with a Chance alum disclosed that she and former BFF Gomez are no longer close — the pair met as child stars on Barney & Friends. However, after Lovato's emotional performance at the Grammy Awards, former friend Gomez showed the singer some love: "I wish there were words to describe how beautiful, inspirational and DESERVED this moment was. Demi I'm so happy for you," she posted on her Instagram. "Thank you for your courage and bravery."
In reference to the touching message from the 'Ice Cream' singer, Lovato explained that "When you grow up with somebody, you're always going to have love for them.
"But I'm not friends with her, so it felt …" she said before taking a pause. "I will always have love for her, and I wish everybody nothing but the best."
While Lovato has drifted away from Gomez, she has leaped into the arms of her soon-to-be husband. The love birds — who celebrated six months together last week — got engaged in July on a Malibu beach after dating for four months.
"Happy 6 months to my darling, the best father these pups could ever ask for … I love you BEYOND," the 'Sober' singer captioned a video of the actor playing with their dogs via her Instagram Story. "Thank you for making my life so much better. @maxehrich. I love you, baby." Ehrich in return reposted the brunette beauty's story and added: "Words fall short, baby. Love you infinitely and then some. Thank you for being the light of my life. Cheers to forever."