NEWS
'Fifty Shades of Grey' Author Says 'No' to Casting Robert Pattinson and Kristen Stewart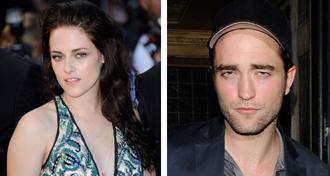 Article continues below advertisement
"I think it would be strange," EL told RedCarpetNewsTV.com. "It would just be... uggh! Weird!"
So who does she have in mind? The author said she has a short list off four men she sees as Christian and about three as Anastacia.
"I'm not telling anyone what they are because I'm not allowed to discuss the movie at all which is a real shame," she said. "Things are moving quite slowly on that but hopefully… it's such fun and so hopefully after we've put a few things in place, it will all start to move on. We've still got to get the producers in place then deal with the script and all that. The actual film is a long way down the line."
OK! NEWS: ALEXANDER SKARSGARD SAYS HE WAS "BORN TO PLAY" CHRISTIAN IN FIFTY SHADES OF GREY
While she's worried the film version will disappoint fans, she says she couldn't picture saying "no" to her one chance to work with Hollywood and bring her characters to life.
"The characters grew; they started that way and developed into completely their own people. It was fascinating getting to know them and know them very well," she said. "I didn't see an outline straight away; I had no idea where these books were going to go. I just went with them. As I got to know them, they grew a life of their own."