NEWS
Find Out What Songs The Cast Of 'Pitch Perfect' Performed at the MTV Movie Awards!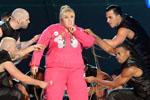 What a start the MTV Movie Awards got off to tonight! As promised, the cast of Pitch Perfect (including host Rebel Wilson, Anna Camp, Skylar Astin and more) started off the show with an EPIC performance of a medley of songs. Sure, they didn't take our suggestions and perform any of the tunes we recommended, but we'll forgive them just this once.
Watch: Live Stream of the 2013 MTV Movie Awards
The medley went from Miley to Eminem (!!!) to Macklamore to Alicia Keys, back to some more Miley and more Macklamore. OMG, it was fantastic.
Article continues below advertisement