NEWS
Which Song Should the Cast of 'Pitch Perfect' Sing at the MTV Movie Awards?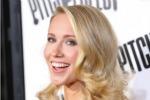 As you may have heard, the cast of Pitch Perfect is reuniting for a performance this Sunday at the MTV Movie Awards. It's yet another part of what sounds like an amazing show, and we are so excited that we decided to go ahead and help the gals narrow down their song selections.
Watch: The Funniest Things Rebel Wilson Has Ever Said!
First up, some of our editors think that the cast should perform one of the songs from the movie, like "No Diggity." Any excuse to watch this awesome scene again, but...
Article continues below advertisement
I do think it'd be fun to see them try something new! We know they love Miley Cyrus from their bus sing-a-long, so how about a mash-up of MIley's first semi-adult single "See You Again" into Icona Pop's ubiquitous "I Love It"?
Speaking of songs by Disney pop stars, I have three words: Demi. Lovato. Medley. I'm thinking "Skyscraper" into "Give Your Heart a Break" followed by the latest, "Heart Attack." Check out the new video, below!
Just for the performance value, it'd be cool if they did Beyonce's "Countdown" wearing the bright colored unitards and '50s hair.
For more nostalgic street cred, may I humbly offer the following: Nelly's "Hot in Herre." Maybe Skylar Astin could appear midway through?
And one more mash-up idea—since Rebel Wilson is never funnier than when she's being overtly suggestive, I think they should mix up Rihanna's two filthiest songs, "Birthday Cake" and "Rude Boy."
Which idea is your favorite? Do you have an idea for a different song they should do? Will you be tuning on on Sunday? Tell us in the comments below or tweet us at @OKMagazine.