NEWS
First Look at Angelina Jolie's Directorial Debut: Watch 'In the Land of Blood & Honey' Trailer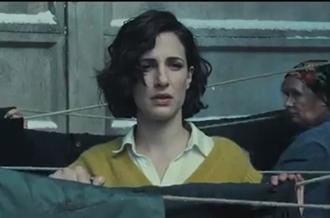 A first look at Angelina Jolie's directorial debut has been revealed. The trailer for the highly-publicized In the Land of Blood and Honey, which the Oscar-winning actress wrote and directed, was released today, and it certainly looks like a moving, emotional film.
Set against the backdrop of the Bosnian war in the early '90s, Blood and Honey stars actors Zana Marjanovic and Goran Kostic as two lovers who are entangled in the middle of the brutal conflict.
Article continues below advertisement
The trailer shows very intense scenes, mixing wartime explosions with snapshots of the love story.
Angie's partner Brad Pitt was often on set with her as she directed abroad.
Blood and Honey is slated for release December 23.
Catch the trailer, via YouTube, below. Are you surprised by the intensity of the trailer?