NEWS
Four Reasons Why Brandi Glanville is the Breakout Star of 'The Real Housewives of Beverly Hills'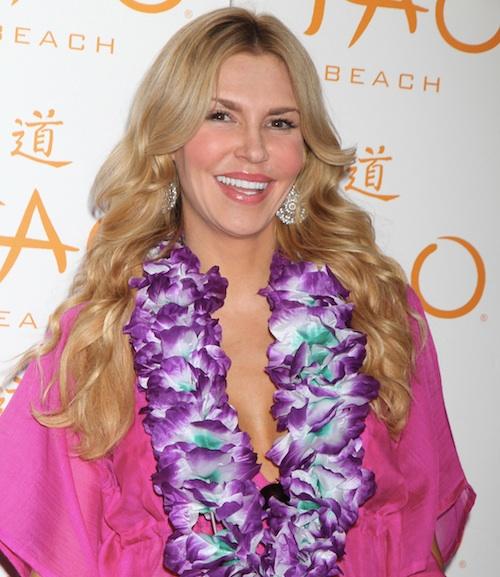 Article continues below advertisement
She was always so deliciously nasty — how could we not have foreseen Brandi's home on The Real Housewives of Beverly Hills?
After a tryout season as a friend-of-the-housewives, Brandi finally arrived last night on the season three premiere as a full-time cast member and thank God for that!
OK! GALLERY: TERESA GIUDICE, CAMILLE GRAMMER AND OUR LIST OF REAL HOUSEWIFE VILLAINS
Here's four reasons why Brandi is the real star of the RHOBH.
She's never boring: While the other housewives send flower displays, bottles of wine or politely written hand notes as housewarming gifts, Brandi will gladly wrap up a toy gun filled with tequila and kinky rubber sex sheet — her cheeky gift to Lisa and Ken last night while visiting their new pad. She makes off-color jokes and often goes braless, which is far too low brow for the likes of Kyle Richards and Taylor Armstrong, but the antics are worth their weight in gold just to watch everyone wince. That being said, Brandi never really comes across as a mean girl. Sure she has her moments (as do all the ladies), but rather than appearing like a villain (ala Atlanta's Kenya Moore) you get the impression she's just cut from a particularly cavalier cloth and refuses to censor herself.
She's not afraid to stick her foot in her mouth: We're big fans of all the housewives, but nobody really lets loose the way Brandi does after half a glass of bubbly. A little like playing Russian Roulette you never know what may set her off. When meeting new housewife, former Dutch model and self-proclaimed romantic, Yolanda Foster, for the first time she describes Beverly Hills as the town where "you know everyone, you've slept with everyone." It's like a gust of fresh air to hear her drop words like "labia" or "crystal meth" only because she says what the evil side of your brain is thinking and who doesn't want to watch that on T.V.?
She's gorgeous and always looks fabulous: You'd be hard pressed to find an ugly housewife, but Brandi – who made a living as a model in the 90s – still looks as catwalk ready as she did in her 20s. She's unapologetic about rocking it out in a teeny bikini and even somehow managed to make a leg brace and crutches look fashionable in season 2.
She's single and ready to mingle: "I was married to the number one douchebag of all-time," she famously said last season referring the philandering Eddie. She's admitted to an affair with Gerard Butler, makes countless lesbian jokes directed toward Lisa and has this kind of hilariously awkward fake crush schtick with Lisa's husband, Ken, that's a little endearing. Sure, Kim Richards is technically single, too, but you don't get the same goofy, man-eating quality from her. So let's hope Brandi has a romance this season and let's make him someone famous. Hey — we hear Leonardo DiCaprio is single...

RELATED NEWS

OK! EXCLUSIVE: BRANDI GLANVILLE: MY RELATIONSHIP WITH LEANN RIMES ISN'T AMAZING RIGHT NOW

KYLE RICHARDS AND HER 'REAL HOUSEWIVES' PALS PARTY AT HER NEW STORE OPENING