NEWS
10 Things You Didn't Know About Friends, According to Gunther from Friends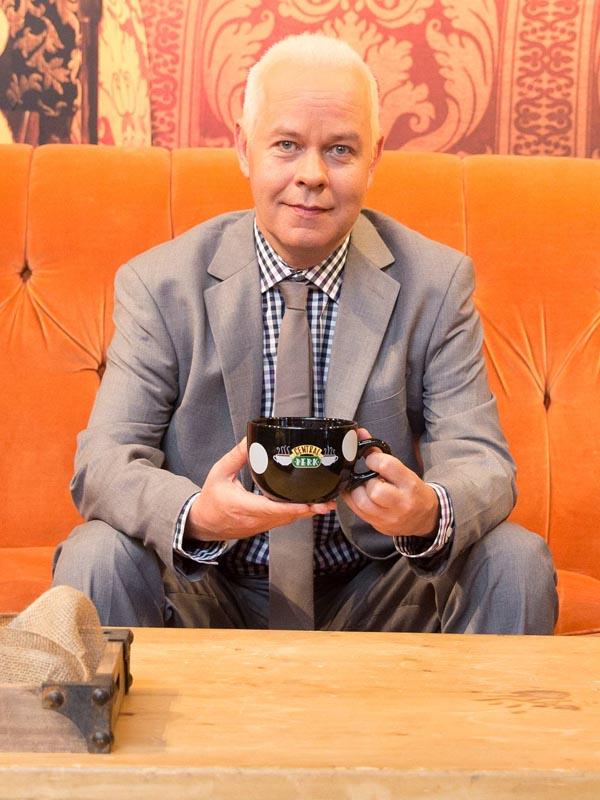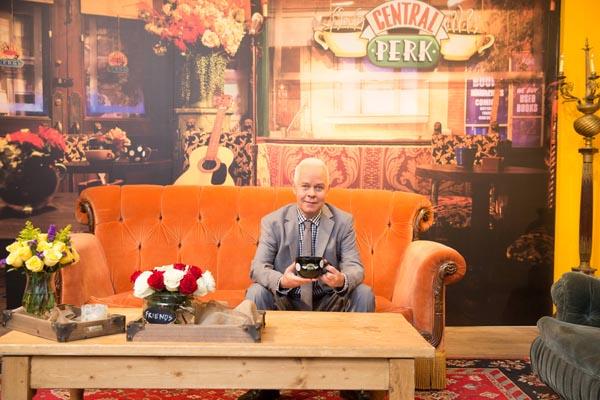 If you wanted to know where Gunther from Friends is now, the answer is right here in New York City at the Central Perk pop-up shop. Seems appropriate, no? The Soho-based shop, which celebrates the show's 20th anniversary, features real-life props from the Friends set including the famous Central Perk couch, costumes worn by the six main characters, as well as an actual coffee bar spewing Eight O'Clock coffee for free!
Article continues below advertisement
OK! News: Vote For The All-Time Best Episode of Friends
Anyway, we talked with the guy who played the show's famous deadpan barista, James Michael Tyler, who will be making random appearances at the recreated Central Perk. He gave us the scoop on all things Friends, such as, where did Gunther live? Do fans call him James or Gunther? Which Friends guest star is his favorite? It's all right here: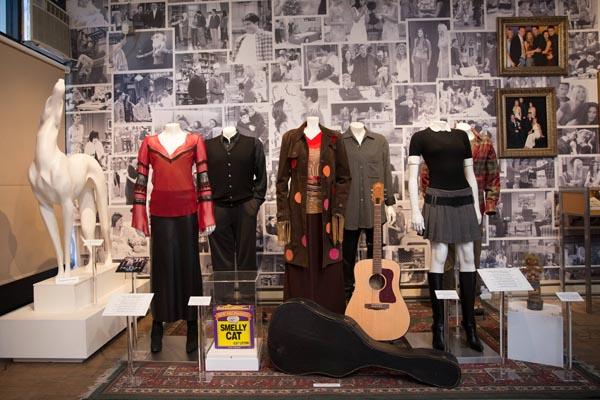 1. James was a barista in real life before playing one on TV. "I've never been a huge coffee drinker, but it's in the show. It's like working in a pastry shop. You smell pastry but you don't even crave it because you're always smelling it. The same with me with coffee when I was on the show. But I was a barista in real life before then too. I actually worked at a coffee shop."
PHOTOS: 22 Things You Didn't Know About Your Favorite TV Pilots
2. Gunther probably lived in New Jersey. Despite not having an actual backstory like the main characters did, James made up his own for Gunther. "I've always thought that Gunther either lived in New Jersey somewhere I would think, which is fine, it's lovely. But I think he probably had a long commute to get to Central Perk. It's either that or he lived in the back of Central Perk maybe in that little tiny room. He had a cot. But that's like creepy and scary so I prefer New Jersey to the back of Central Perk. Maybe that's why he was so cranky. He had like 15 stops on his commute."
Article continues below advertisement
3. James' favorite Gunther line is also the fans' favorite. The line that fans always recite to James happens to be his fave. ""Definitely 'put the mouse back in the house.' That was such a fun episode. That was one moment where Gunther said the one thing that no one else would, which often he would be like, hey I'm direct, I'm in New York, I'm a barista, I'm upset, I love Rachel and I don't really care for anyone else so this is the way it is. So he told the guy to put it away."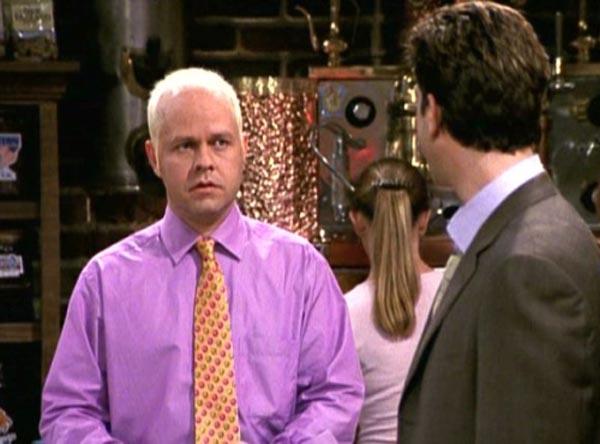 4. Gunther is NOT to blame for Ross and Rachel's breakup. Despite Gunther kinda instigating the Ross/Rachel breakup, James says it's not Gunther's fault. "He definitely did instigate but he had his own reasons for doing that and he had the opportunity to make Ross' life difficult. They were NOT on a break! And so I think that Gunther did the right thing there honestly. It was kind of a horrible thing to do, not a nice thing to do but he had his own motivation."
Article continues below advertisement
OK! News: 22 Friends Facts That Will Blow Your Mind
5. Paul Rudd is (probably) his favorite Friends guest star. When asked which other celebrities he hopes come into the pop-up Central Perk, James made it clear that he wanted one guest star in particular to make an appearance. "Wouldn't it be great if some of the guest stars from Friends could come in here? I love Paul Rudd. It was so great when he was on the show. He's just so funny and such a great, great guy. He made those days go by very quickly when he was on the show."
6. James gets called Gunther more than he gets called by his real name....and he has the show's credits to blame for that. "I do get Gunther more because my name doesn't appear in the main opening title credits and it's always in the end in the scroll. And nobody ever watches the credits!"
7. He only dyed his hair back to blonde recently for the show's 20th anniversary. James has had his natural brown hair since the show ended in 2004...until now. "This is the first time I've bleached my hair since the end of Friends. So it's been 10 years but I did it for this occasion. I wasn't going to initially but the 20th anniversary, it's the least I can do. They're recreating Central Perk, the least I can do is recreate a part of the character. Otherwise, people would be like, who is that Anti Gunther? With the dark hair?"
Article continues below advertisement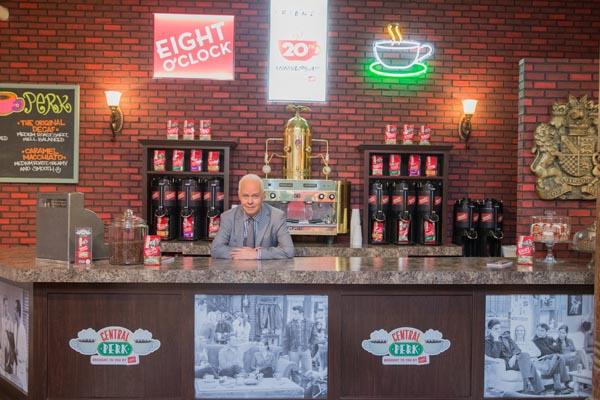 8. He couldn't watch reruns of the show until about two years ago...because it was hard for him to pay attention to the storylines! He told us, "I haven't been able to watch the show as a fan for a long time until recently, the past two years. That whole suspension of disbelief thing is hard for me to pass because I would think about things that would happen that day of shooting, and not the storyline. And when I was on the show Gunther didn't speak much so a lot of the time I was just hanging out in the trailer and didn't know what was going on on the set. So I can watch it kinda fresh now and appreciate what fine actors and great writers and great scripts they really were."
WATCH: The Friends Cast Reunites on Jimmy Kimmel Live
9. He's met people who have named their pets after Gunther. Even though James claims he hasn't heard of anyone name their babies Gunther—except "maybe in Germany"—it's a very popular name for pooches. "Apparently Gunther is one of the favorite names for bulldogs. Somebody told me that. French bulldogs are really in now too. I think Gunther is a good name for a bulldog."
Article continues below advertisement
10. He doesn't keep in touch with any of the Friends cast...except for one of them. And that one is Matt LeBlanc! "I was on Matt Leblanc's show Episodes a couple years ago so I got to go to England and play myself, James Michael Tyler, as he's playing Matt LeBlanc. So that was kinda surreal being with Matt LeBlanc at 5 in the morning in the outskirts of London in the pouring rain. It's dark and here comes Matt and it's like James, how you doing? This is kinda weird, isn't it? He's the last one I've seen in person in a while."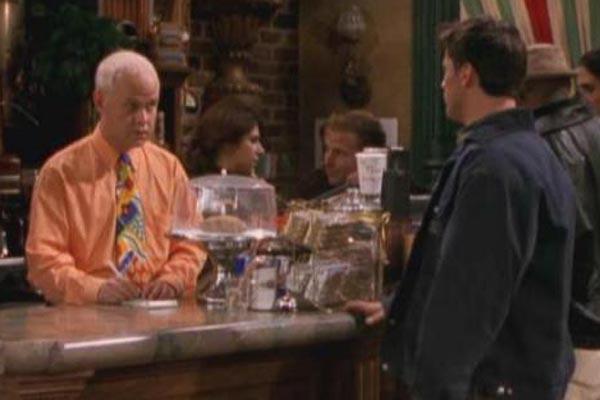 OK! News: Eva Mendes and Ryan Gosling Are Parents!
Be sure to check out the Central Perk pop-up shop at 199 Lafayette Street in New York City, opening to the public on Wednesday, September 17th! Did you know all of these things about James Michael Tyler, aka Gunther? What would you have asked James if you met him? Tweet us @OKMagazine.