NEWS
Get Kourtney Kardashian's Gorgeous Cover Look!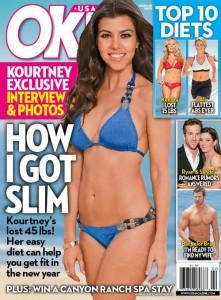 Celebrity makeup artist Joyce Bonelli is responsible for Kourtney Kardashian's perfect sun-kissed look in this week's new issue of OK!. Envious of Kourt's glow? Try it yourself! Joyce dishes how she made the reality star's makeup pop to match her hot, toned bikini bod!
Check out the products Joyce used on Kourtney in the gallery below!
Some tips from Joyce on Kourt's cover look:
• My secret to this look is blending eye shadows all the way up into the brow bone giving a smoldering effect to the eye, with the thinest line of eyeliner in the lash line making the eye pop. The magic factor is Mascarra as always, so lather up lashes!
Article continues below advertisement
• While doing lips on Kourtney for this look I stayed away from lip liner. I used just a lipstick. This keeps it fresh, with a fun color leaving just a stain on the lips without over doing it.
• Also to keep the skin bronzed, I used Clarin's Barocco Gold Shimmer powder. Remember Blend Blend Blend!
Other products used:
• LIP:YSL Rouge Volupte #30
• CHEEK:Lorac blush in Exposed