NEWS
Giuliana & Bill Rancic Are Expecting Their First Baby!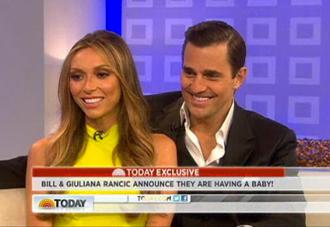 Fantastic news for reality stars Giuliana and Bill Rancic. The couple, who have faced infertility, a devastating miscarriage and a breast cancer diagnosis, are finally expecting their first baby!
"We are so thrilled that our prayers have been answered," Giuliana, 37, told E! News today. The baby is due in late summer via gestational surrogate, meaning Giuliana and Bill are the genetic parents.
OK! NEWS: GIULIANA RANCIC DOESN'T REGRET WAITING TO HAVE CHILDREN UNTIL SHE WAS 35
Article continues below advertisement
"We are absolutely ecstatic to be sharing this with everyone who has been following our journey," Bill, 40, added.
The soon-to-be parents appeared on The Today Show this morning to share the happy news, telling Ann Curry, "We are finally having a baby!"
Giuliana also revealed that that they know the sex of the baby, but added, "we're not telling anyone yet."
Their surrogate lives in a different state, but the couple have been escorting her to all her doctor's appointments and have been able to get a glimpse of their baby-to-be.
And despite everything that has happened this year, Giuliana and Bill's dreams are finally coming true, and they admit that they wouldn't have made it through without the support of their loving fans.
"We received an incredible amount of love and prayers from viewers around the world," Giuliana told E!, "and we want to take this opportunity to thank each and every one of them for their love."