NEWS
Giuliana Rancic's Last Word Outtakes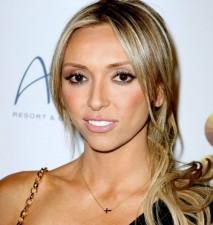 With a busy schedule that includes commuting between Los Angeles and Chicago to see her husband Bill Rancic, E! host and Giuliana and Bill reality star Giuliana Rancic leads a charmed life.
The 35-year-old beauty takes on OK!'s Last Word in the issue on newsstands now. This is what you won't see in the magazine.
Last time you laughed?
This morning when I woke up next to my husband, Bill! I laugh every time I'm with my husband. We are best friends and laugh so hard together. The secret to having a wonderful marriage is marrying your best friend. We workout together, we travel together, we cry together and most importantly we laugh together every single day.
Article continues below advertisement
Last time you lied?
I got busted for talking on my cell phone the other day while driving in LA. The police officer pulled me over and told me he saw me switch from my phone to my Bluetooth the second I saw him. I explained that I had just pulled out of a pharmacy and was on the phone with my doctor and my Bluetooth hadn't activated yet. I rambled on and on about my doctor until he finally bought my story and let me go. I think he was sick of hearing about my doctor.
RED CARPET CONFIDENTIAL: CARRIE ANN INABA'S LAST WORD OUTTAKES
Last time you flew?
In the past five days, I flew from L.A. to Chicago for a fundraiser, then Chicago to Aspen to host an event for Veuve Clicqout Champagne, then Aspen to L.A. to shoot E! News and back to Chicago five days later.
Last time you babysat?
Bill and I babysat my sister's three daughters recently. They love Bill and run away from me. Bill is so nurturing and great with kids. I'm more of the disciplinarian so kids avoid me at all costs!
Article continues below advertisement
Last dream or nightmare you had?
I had a dream my E! News co-host Ryan Seacrest and I were talking about developing a new show together. The next day, I made the mistake of telling him I had a dream about him and before I could finish, he jumped to conclusions. Oh please!
Last vacation you took?
Bill and I spent a few days at the Viceroy Snowmass in Aspen. We had so much fun we forgot to ski! Instead, we lounged around, ate great food, hung out in bed ordering room service and we also indulged in massages and facials in the Viceroy's amazing spa. It was dreamy and just what the doctor ordered.
RED CARPET CONFIDENTIAL: NICK LACHEY'S LAST WORD OUTTAKES
Last time you felt guilty?
The other day I was having a crazy morning at work and my mom called to talk to me about something important to her. I abruptly got off the phone with her to run to a shoot and didn't call her back until the next day. I felt really guilty the next day because I thought about all the times in my life where I've needed my mother and she was there for me without question. It made me realize family always comes first so I will try my hardest to always be available for her like she has been for me throughout my life.
Article continues below advertisement
Last time you felt proud?
I took my 13-year-old niece, Olivia, to the Twilight New Moon premiere in the hopes of introducing her to her ultimate crush Taylor Lautner. Olivia is terribly shy and quiet so I was worried she would freeze at the sight of Taylor. Instead, she walked right up to him, introduced herself and asked him to pose for a picture with her. It made me proud to see my little niece wasn't afraid to chase celebs like her auntie.
OK! EXCLUSIVE: THE LAST WORD WITH LARA SPENCER
Last thing you ate?
I ate the most delish big and fluffy egg white omelette with spinach, onion and cilantro with a side of buckwheat pancakes for Bill and I to share. We get it from Original Pancake House down the street from our Chicago pad. It is baked in the oven and is the best omelette in the world!
Last thing you bought?
I love shopping online and I've been living in leggings this year so I just bought myself the cutest crop zipper leggings for the spring from LNAclothing.com. I've been wearing their t-shirts for years and now I'm loving their new leggings. They are incredible and I love wearing them with a long t-shirt, cool blazer and boots.
Article continues below advertisement
OK! EXCLUSIVE: THE LAST WORD WITH MIRANDA LAMBERT
Last time you went to Italy?
The last time I was in Italy was this past summer. Bill and I have made a deal to go to Italy every year and visit Capri, where we were married almost three years ago. This summer we are going to Tuscany. We have never been but yet we feel very connected to the region already. We often dream of retiring in Tuscany one day in a charming villa where we can bottle our own wine or olive oil. How romantic!
Last time someone called you a nickname?
Bill's nickname for me is "baby doll." Every day we're apart, we text each other first thing to say "good morning." The other day we were apart and he texted me "Good morning, my love. How's my baby doll?" It warms my heart and instantly puts a smile on my face.
Here's my pic with Giuliana during a 3 Musketeers Truffle Crisp event:
Pick up the OK! on newsstands now for Giuliana's Last Word interview. The cover line is Kendra & Kourtney: "New Moms Fight Back!" Also, Giuliana has teamed up with 3 Musketeers to offer fans a one-of-a-kind experience in Los Angeles through the "What would you rather share than a 3 Musketeers Truffle Crisp bar?" contest. Visit www.facebook.com/3musketeers for more details.