NEWS
Is He Your Next American Idol?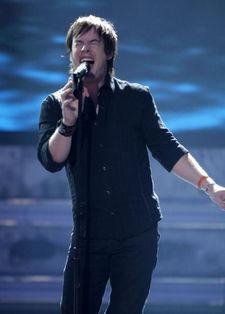 Singing songs released during their respective birth years, the 10 remaining finalists on Tuesday took to the Idol stage — with very mixed results. And, as appears to happen almost every season on the most popular show on TV, contestants who had been considered shoo-ins for spots in the top 4 earlier in the competition began to show fatal flaws in their armor while some of the more unlikely candidates for the Idol crown stepped up to show their true potential.
Article continues below advertisement
Only a few weeks ago, dreamy-eyed and dreadlocked Jason Castro had the audience and the judges proclaiming him a front-runner after his touching version of the Leonard Cohen classic "Hallellujah," but as Simon pointed out following an admittedly sloppy performance of the minor 1987 Sting hit "Fragile," the singer has "had two bad weeks" and that it's "time you start taking this more seriously."
Given Carly Smithson's recording experience and almost unbeatable voice, many Idol skeptics had called foul on the show's producers, alleging that they had brought in a ringer who would have no trouble winning the competition. And yet, the 24-year-old Irish beauty continues to be plagued by bizarre song choices and her rendition of the schmaltzy 1984 Bonnie Tyler light-FM hit "Total Eclipse of the Heart" could have her doing time in the bottom three for a second week.
The night's most confounding performance came from another finalist with years of experience (and a Star Search trophy) under his young belt. But David Archuleta's decision to sing "You're the Voice," by Aussie singer John Farnham — a song neither Randy nor Paula could identify — had the judges scratching their heads, as did his hyperactive performance, which Simon likened to "one of those ghastly songs you sing when you've got animated creatures with you" at a theme park.
Article continues below advertisement
Meanwhile three contestants, Michael Johns, Syesha Mercado and Kristy Lee Cook, were able to rebound from unremarkable showings so far in the finals. Michael's shortened run through of Queen's arena rock classic "We Will Rock You/We Are the Champions" even had Simon admitting that the Australian hunk "has star potential." And Kristy's decision to trot out Lee Greenwood's flag-waving fave "God Bless the USA" had all the judges and the audiences saluting her clever song choice and solid performance.
But for all the ups and downs among the other finalists, the only constant in these early weeks has been David Cook, who continues to impress judges and voters alike with his thoughtful updates on classic tunes. On Tuesday, he made the brave choice to end the show with a slowed-down, minor key take on Michael Jackson mega-hit "Billie Jean," which all three judges admitted was risky, but which won nothing but praise in the end. "Blazing... molten hot!" exclaimed Randy. "I think you're brilliant," Paula told David. And even sour Simon confessed, "it was amazing!"
So what do you think? Does David have what it takes to keep his momentum up? Will the faltering front-runners get their acts together and stage comebacks? Is there a real dark horse waiting in the wings?