NEWS
Healthy Eats: Take The Guess Work Out of Back To School Meals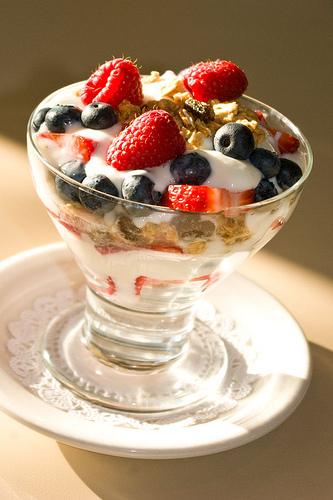 Harried parents trying to get their families out the door for school and work is typically not the recipe for a healthy breakfast. But celebrity nutritionist and author of Skinny Chicks Eat Real Food Christine Avanti has super simple morning and lunchtime meal suggestions to keep you and your kids healthy, full and satisfied.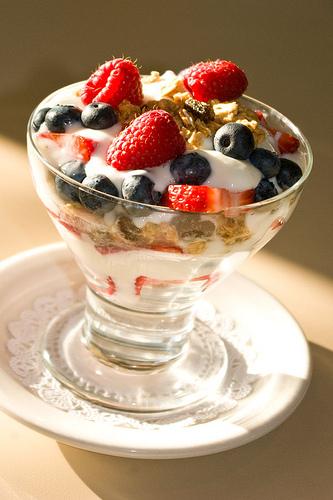 Breakfast: Berry Parfait
Ditch the cold cereal in favor of something just as easy but packed with way more nutrition.
Article continues below advertisement
"The simplest thing is a berry parfait with Greek yogurt, fresh berries and a little bit of granola in there," explains Christine. "At least that will stabilize blood sugar, it's a nice 13-carb combo, parents can eat it, kids can eat it. Everybody likes it. I don't think the flash quick bowl of cereal and milk and out the door is a good plan. It's important to get a decent proportion of protein with some healthy carbs. It takes maybe 30 seconds longer to make a yogurt parfait than a bowl of cereal and milk. Eating yogurt revs up your body's metabolism and helps with weight loss. It's going to help kids with concentration in school if they're eating fruit and yogurt with the granola. It's going to give them sustained energy."
OK! News: Soleil Moon Frye Offers Back To School Style Tips
Lunch: Turkey or a PB & J Sandwich
Bending over backwards trying to plot out a healthy lunch your kids will actually eat? It's easier than you think.
"I think sending them to school with a basic turkey sandwich is always a healthy option," says Christine. "Going back to that basic peanut butter and jelly sandwich - a tablespoon of peanut butter is a healthy fat or if you want to go almond butter, that's fine, with well-made fresh fruit preserves on a piece of whole wheat bread that, believe it or not, is a healthy option. I actually have it on a meal plan in one of my books."
What's the biggest obstacle for your family at back to school time? Tell us in the comments below or tweet @OKMagazine.