NEWS
Heidi Montag & Spencer Pratt Are Broke: "My Ego Got Too Big"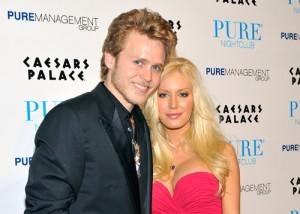 Heidi Montag and Spencer Pratt are admitting they were wrong. Wrong about how they spent their money on clothes and plastic surgery and wrong about how they went about trying to be famous.
OK! NEWS: HEIDI MONTAG SHEDS 27 LBS. WITH 14-HOUR WORKOUTS
In a new interview with The Daily Beast, Heidi and Spencer (aka Speidi) open up about how trying to make a career out of reality TV didn't work for them and now they find themselves broke.
Article continues below advertisement
"We never had any!" Spencer said when asked where all their money went.
As quickly as they made it they spent it.
"I probably spent a million dollars on suits and fancy clothes," Spencer said. "My whole million-dollar wardrobe — I would never wear that again. They're props."
And Heidi did the same.
"I should have known growing up and not having any money ever that I should have kept every dollar that I had," Heidi explained. "I thought I was investing in myself and my brand. Like Kim."
You know, Kim Kardashian.
"When she buys these clothes, she's investing in herself," Heidi continued. "Because she is a big brand and is likeable. I thought I had that potential. My ego got too big. To think I could be someone like that when I was the most hated girl ever."
OK! NEWS: HEIDI MONTAG & SPENCER PRATT TO RENEW WEDDING VOWS
And Heidi admits that all the plastic surgery she got she shouldn't have.
"Obviously I wish I didn't do it," Heidi said. "I would go back and not have any surgery. It doesn't help. I got too caught up in Hollywood, being so into myself and my image."
But she wouldn't go so far as to say she regrets it.
"I don't regret anything, but if I could go back, I wouldn't do it."
And now they've had to change their lifestyle living in Santa Barbara.
"It's like what 70-year-olds do. We're reading a lot of books," Spencer said. "Now all we eat are tacos and burritos. Whereas we used to eat at Cut."