NEWS
Hilary Duff on Breastfeeding Baby Son Luca: "I am Going to Stick to it"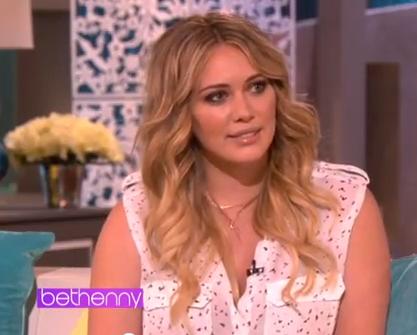 It has been just twelve weeks since Hilary Duff and husband Mike Comrie welcomed baby son Luca into the world. And they have been enjoying every moment of their new family.
But at the same time, the singer/actress has also had to struggle with losing that dreaded baby weight, while also breastfeeding her son. Hilary visited Bethenny Frankel's new talk show, Bethenny, to open up about the new mommy experience.
Article continues below advertisement
It's always been a controversial topic of whether women should breastfeed and for how long, but Hilary doesn't listen to any of it.
"The motherhood world is very accepting, but it can also be very judgemental. Some people are like, 'If you don't breastfeed, it's wrong.' You have to do what's best for your baby. I have been lucky, and it has been easy for me," admits Hilary.
"At first, I said four months I would breastfeed, now I have changed my mind and now I am dedicated to six months," the new mom reveals. "And if I am enjoying it and loving it, I am going to stick to it. It's huge commitment. Being a mom is a huge life change and I am enjoying every single moment of it."
As for the baby weight, Bethenny asked Hil if she ate a lot while pregnant?
"Hell yeah, I got down. Towards the end laughing," the Lizzie Maguire actress confesses. "My whole life, I have worked out and been in the public eye and always watched what I ate. It was like a free pass and I had a blast. Next time, I would try not to gain as much weight. Now, I am excercising and dieting, but I am breastfeeding, so I am not on a total extreme diet."
Article continues below advertisement
OK! NEWS: HILARY DUFF TALKS NEW BABY AND NEW MUSIC
Hilary got married at 22 and had Luca just two years later, but despite some naysayers, Hil doesn't think she was too young.
"I have had a serious job since I was 9 years old. I've grown up faster and I have experienced more. I was with my husband for about 3 1/2 years before we got engaged and it just felt right for me. My family loved him and they were so excited."
Hilary admits it was more the media that reacted to her young age, than the people closest to her.
Do you think Hilary got married and had a baby too young?
Check out more of Bethenny's interview with Hilary HERE.