NEWS
HOT GALLERY: John Mayer Makes Amends For 'Playboy' Interview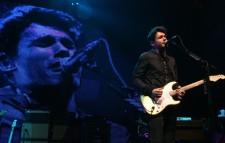 In light of John Mayer's recent outspoken interviews (where he seemingly lacked a filter), the crooner's Battle Studies tour has turned into an apology tour. Last night, John apologized for his recent Playboy interview — in which he used a racial slur and likened Jessica Simpson to "crack cocaine" —during his live performance at Madison Square Garden in NYC.
"I hate to come off like an a--hole ever, and thank you guys for believing that I am not an a--hole," John told the crowd (via MTV news).
Article continues below advertisement
"Never, ever in my entire life did I ever think that it would be a good idea to be an a--hole. But you know what? There's plenty of a--holes who think the same thing, so I have to thank you," he continued.
John was very grateful for his fans' continued support, Tweeting them a safe journey home in the snow after the concert.
"MSG crowd, will you tweet me when you get home safe? It's bad out. Oh, and HOLY SHNIKES. You were unreal tonight," he Tweeted.