NEWS
Housewife of D.C. Selling Red Sari Worn While Crashing White House Dinner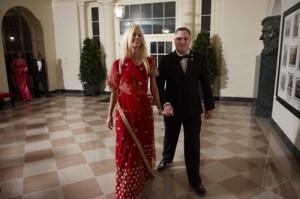 White House crasher extraordinaire Michaele Salahi is going to auction off the red sari she wore when she and her husband Tareq Salahi allegedly crashed a state dinner last November.
Michaele told the Associated Press that she plans to put the dress up for bid around the time the scandal is addressed on the new Bravo reality show, The Real Housewives of D.C.
The proceeds from the auction will go to victims of the Haitian earthquake and people with multiple sclerosis, Michaele said.
Article continues below advertisement
OK! VIDEO: WHITE HOUSE PARTY CRASHERS CLAIM EMAIL INVITES
Michaele stars alongside four other women in the newest installment of the Housewives franchise premiering Thursday, Aug. 8 on Bravo.
The five newest housewives take on the fashion pages in OK!'s latest issue, discussing what makes their look D.C. chic.
OK! NEWS: WHITE HOUSE PARTY CRASHERS POSSIBLE ROLE ON REAL HOUSEWIVES
"In D.C., people are very polished," Michaele told OK!. "When I moved to the country — Hume, Va. —to marry my husband, I was going grocery shopping in my D.C. look, and this older man yelled down the aisle, 'Barbie, that look's not going to work in this area!' "
FOR MORE ON THE REAL HOUSEWIVES OF D.C. INCLUDING AN EXCLUSIVE FASHION SHOOT WITH THE D.C. CHIC LADIES, BUY THE NEW ISSUE OF OK! — ON SALE EVERYWHERE THURSDAY!