NEWS
What Would the Countess Do?: When to Play Dress-Up; Megan Fox Tells Too Much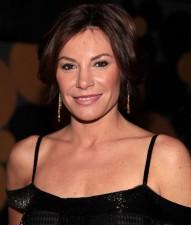 When it comes to etiquette, manners and overall good behavior, even celebrities need help navigating the rough waters of stardom! It's a good thing Countess LuAnn de Lesseps of the Real Housewives of New York is joining forces with OK! to school them on the right thing to do! In a rough situation, we just ask, "What Would the Countess Do?" This week, the Countess gives OK! her best tips on when to glam it up and also has a few choice words for the oversharing Megan Fox.
Article continues below advertisement
How to go glam... when appropriate!
Where would the Best and Worst Dressed lists be without Oscar night to provide so much material? The Academy Awards are a huge night for fashion. Each year, there are always a few outfits that leave us scratching our heads in wonder. Cher's 1986 terrible and yet magnificent spider and feather ensemble by Bob Mackey comes to mind. Most of us are not as fearless as Cher when confronted with a situation where we have to dress to the nines.
My advice is to keep your look simple, elegant and age appropriate. Use your dress as the canvas and your accessories as the paint. Don't be afraid of color. Trust your instincts when evaluating your outfit and when in doubt, duck! Be careful not to embrace your inner Cher, you might just end up on the worst dressed list.
Tip: It is always better to be overdressed than underdressed.
WHAT WOULD THE COUNTESS DO?: TAKING ON CHARLIE SHEEN; CLEANING UP THE JERSEY SHORE
MORE ON:
Countess LuAnn De Lesseps
Article continues below advertisement
Megan Fox told the world last week that she's had two sexual partners. Should she be talking so openly about her personal life?
Does sharing this information make her feel better about being a sex symbol? Megan Fox has a tendency to "overshare." Is the world a better place because Megan has had sex with only two men? I think that a person's sex life is very personal and that there is usually an ulterior motive for revealing so much about one's private life. I just read an article where Mickey Rourke brags about having bedded 14 women in one night. We are not better off knowing this information.
Tip: You can kiss but why should you tell?
Join OK! next Monday for more tips from the Countess!
For everything Countess LuAnn, check out www.classwiththecountess.com, follow her on Twitter and check out her Facebook page!
Tune in to Bravo on Thursdays at 10 ET for the third season The Real Housewives of New York.