NEWS
'How I Met Your Mother' Preview: Ted Tells Robin "No Pressure"; Barney Searches for Sex Tape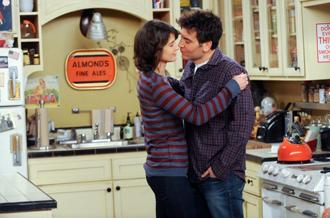 Who else is excited for the new episode of How I Met Your Mother tonight? Last week's episode left us with quite a cliff-hanger after Kevin (Kal Penn) called off his engagement to Robin (Cobie Smulders) when she revealed she never wants to have children. But the real jaw-dropping moment was when Ted (Josh Radnor) comforted Robin by announcing he still loves her! So, what's in store for tonight?
OK! NEWS: HOW I MET YOUR MOTHER PREGNANCY SHOCKER — WHO IS THE FATHER?
Article continues below advertisement
Executive producer Craig Thomas tells Entertainment Weekly that Ted asks Robin for a response to his declaration, but tells her there is "no pressure." Hence, the title.
"It's sort of sweet and bittersweet. I like to think it goes in a direction that people won't see coming," he said. "Robin's head is exploding."
So why is the show bringing Ted and Robin back together?
"We had Ted's season one girlfriend Victoria come in episode 3 of season 7 and she looked into her crystal ball and said, 'Something's going to happen with this you being friends with Robin thing. Something's going to come from that.' And we're going to see that something will," Thomas explained.