NEWS
How Kimora Lee Simmons Overcame Divorce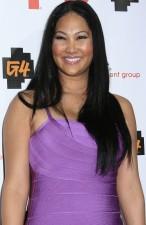 When Kimora Lee Simmons split from hubby Russell Simmons in 2006, the self-professed model mom mogul closed the chapter on a marriage that lasted nearly a decade and produced two children, Ming, 10, and Aoki, 7.
But the Life In The Fab Lane star, 34, moved forward effectively, and is now wed to actor Djimon Hounsou, who is the father of their son Kenzo, nine months.
Going through divorce gave Kimora an enlightened perspective on her new relationship with the Blood Diamond actor, whom she met one year after she and Russell separated.
Article continues below advertisement
"I feel like I definitely have my head on a little straighter sometimes," the Baby Phat designer tells me. "I know what I want; I was a package deal with my kids, and I think I made it very clear about what I was looking for. I put my family first, and that's why for a long time, you didn't see me dating or hear about me dating or hear about me out. I had other focuses in my life, and that would be my family and my work."
She continues, "I was looking for someone who had those same goals and same qualities about themselves, and wanted the same things. I think that's very important. You don't see me in the clubs unless I'm throwing a party for Fashion Week."
Kimora hopes to write a book with the lessons she's learned from love.
"Women call me all the time, and tell me 'you inspired me to get out of a bad situation' or 'you inspired me to take the reigns for myself and go and do this,'" she tells me. "I try to tell people to live their best life, and do what you know you need to do for yourself and your family. You need to be supported. It's not always about the money and the fame, and a lot of people think that it is sometimes."
Article continues below advertisement
She continues, "I was very blessed to find a partner that was really ready for the things that I was ready for in my life. You have to be matched up properly with someone."
Her relationship with Russell has evolved with time.
"Russell and I have managed to create a great friendship now, but it's been sometimes a very difficult road," she says. "I was with him from very, very young, and people change in their ideals of what they will accept and what they won't accept and what they would like for themselves changes."
READ KIMORA LEE SIMMONS PONDERS PLAYBOY
When Kimora wed Djimon, 45, in May, she tied the knot with a man who is truly her other half.
"I'm blessed to be with someone who has similar parenting goals, family goals and ideals in mind," she says. "We live very harmoniously now. I guess I'm blessed, and that's why I'm so happy. Even when people talk about me, people say 'she looks so happy, she looks so calm, she looks so relaxed, she looks so good, she looks like she's in a great place in her life.' I really believe that."
Article continues below advertisement
Because Russell is frequently in the lives of Ming and Aoki, Kenzo sees him as "almost an uncle," Kimora says. Still, she and her ex have their differences when it comes to co-parenting their daughters.
"Russell tried to send them a Blackberry," she tells me. "I said 'h-e-double-hockey-sticks no.' They're not responsible enough to keep it charged. If they're not responsible enough to keep it charged, they'll run out of batteries. No. They're not going online and having predators talk to my kids. No. We're not talking to anybody we don't know. No. We're not looking things up. Now they do use the computer for research as a study tool in a controlled environment. Their computer is in the kitchen in a family environment. I am very, very funny about that. But they will have cell phones and everything in due time."
Kimora considers herself to be a strict parent.
"I'm very tough around the house," she says. "We don't watch a lot of TV. Bedtime, it's a set time every day - it's 8:00. We read, read, read. If anyone tells me, 'mom, I'm bored,' mom gets out the homework."
She continues, "We do tutoring 2-3 times a week religiously because we travel so much. The girls are on TV, too, and the girls are at Fashion Week, too. They have a little extra perks in life. They work extra hard sometimes. It's very tough. They're not forced to do it. They don't have to come out on the runway and wave. They want to do it. If you want to do that, you have to have all your homework done before the other kids do because the other kids aren't on the runways at night."
Article continues below advertisement
For Ming and Aoki, TV time is restricted to 30 minutes of educational programming per day on channels including National Geographic and Animal Planet.
"I'm not saying it's banned, but we don't do all the kiddie channels and the non-educational crap and the things that melt your brain," she says. "They watch some kids shows, but I feel like their brain should be always active and they should be learning and they should be inspired to be creative. I don't want to put them in front of the TV and let them melt into nothingness. I want everything to be educational and constructive about their time and their creativity. I want them to expand their minds, and not to be tunneled in by garbage you see on TV. It's too much."
When it comes to meals, Kimora feeds them healthy food, and she's thankful her kids are not picky eaters.
"They don't eat crap; they don't watch crap. They're not those kids. They eat lots of vegetables, they eat salads. They eat very, very healthy. They take a lunch to school. I prepare it for them every day. They don't always eat at school. They don't do a lot of sweets. Sweets are definitely a treat."
Article continues below advertisement
Considering Kimora is a mix of African-American, Korean and Japanese, and Djimon was born in Africa and raised in France, cultural traditions are highlighted around the home.
"I expose the children to a lot of different things," she says. "Now we're focusing on French because Djimon is French, and speaks fluent French. Culture also comes into our diet. We eat lots of Asian food, lots of African dishes. We try to expand our horizons. The girls have gone to Africa, the girls have gone to different areas in Asia. They're well-rounded individuals, and they're very interesting young people. I'm very blessed."
The global vibe plays into their daily diet.
"We love sushi," she says. "It's not like really cooking a dish, but we do love that. Djimon makes a great spinach and potatoes and stew dish and it's typical African. It's so yummy. Sometimes he puts a little fish in it. It's so good. He's a great cook, so we've got that covered."
For the family of five, jet setting is part of life.
"We travel a lot," she says. "We go to Europe and Asia; we go to the islands. It's a lot. It's a lot to get everything together and lug all your kids and their gear everywhere, but it's well worth it, and it's a lot of fun. I think it's important to create those milestones for children, and to expand their horizons and let them see the world and the people around them so they know they're not the only ones."
Article continues below advertisement
Still, with all the privileges of their charmed lives, Ming, Aoki and Kenzo are growing up with the sensibilities Kimora knew growing up in St. Louis, Missouri.
"I try to raise them similarly to the way I was raised, which is to have good values and good morals and to be well-supported and to in turn, support others," she says. "I think it's very important. My mother was the same way with me. I think I was blessed in that area."
What lessons does she hope to instill in them?
"I want them to know that I love and support them no matter what their choices are in life," she says. "I can't make their choices for them, but I hope to try and guide them in the right way, and teach them about compassion, spirituality, caring about others and caring about yourself. Self-respect, and respecting others."
She adds, "Anyone who knows my kids will say they're very well-behaved, and that's no easy feat. That's nothing you can do by raising your kids on the sidelines or letting someone else do it for you. I'm a very, very hands-on, involved mother. My life revolves first and foremost around my children, and everything else has to fall into place and take a backseat to that."
To get Kimora's "Body After Baby" secrets, pick up the OK! on newsstands now. "Bachelor Wedding Album" is the cover line. And, catch season three of Style Network's Kimora: Life In The Fab Lane, which premieres March 21 at 9/8c.