NEWS
Hugh Grant Calls Rupert Murdoch's Company Phone-Hacking Scheme "Terrifying"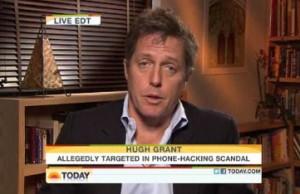 Hugh Grant gave a live interview this morning with Matt Lauer on the Today show regarding his feelings the phone hacking scandal surrounding some of Rupert Murdoch's media companies. The British actor, who helped police prove media outlets were hacking phones to get news, called the practice "terrifying."
OK! VIDEO: HUGH GRANT PLAYS DETECTIVE IN CELL PHONE HACKERS CASE
The scandal sparked interest among people in the U.K. after the Guardian reported that News of the World employees hacked into the cell phone of an abducted 13-year-old girl. The hacking apparently caused her family to have hope their daughter was still alive when she actually wasn't.
Article continues below advertisement
"The police unfortunately deliberately dragged their feet... and the government were also equally terrified of Murdoch," Hugh explained on Today. "He had the power through his papers to get them elected and his paper knew dirty details about individual MPs, so they were unwilling ever to take them on. Only three weeks ago, all our major politicians in this country were sucking up to Rupert Murdoch and drinking champagne on his lawn at his summer party. So it's almost comic that today in Parliament they're all competing to say he's a terrible person."
OK! NEWS: NEWSPAPER APOLOGIES TO SIENNA MILLER FOR HACKING HER PHONE!
And Hugh thinks this is an issue that is not strictly just of concern for the U.K.
"I would've thought it was of interest to Americans simply because Rupert Murdoch does own an enormous amount of your media," he said. "I think people need to ask themselves who is this man who owns such a large part of our media."
Watch a clip of Hugh's interview, below!