NEWS
'Idol' Aaron Kelly's Elimination Interview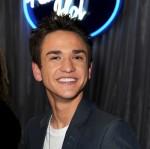 Aaron Kelly, the latest American Idol star to be eliminated, told reporters in a conference call this morning that he hopes to pursue a country music career.
OK! NEWS: AARON KELLY: HARRY CONNICK JR. SHOULD REPLACE SIMON COWELL
The 17-year-old, whose Idol experience ended last night after a Frank Sinatra themed week, revealed why he thinks Wednesday was his swan song: "I think the judges wanted to see a little charisma. I needed to believe a little bit more. I was still learning to add the extra things to my performances." But, he added, "I'm really happy with as far as I made it."
Article continues below advertisement
Still, many fans believe Aaron was cut too soon because his performance of "Fly Me to the Moon" was superior to Casey James' off-key rendition of "Blue Skies" on Tuesday night.
OK! NEWS: AARON KELLY LEAVES IDOL, HEADS BACK TO SCHOOL
Now, the kid who showed great maturity in advancing over many more experienced performers and finishing 5th on Idol, wants to have a career like his favorites Rascal Flatts and Keith Urban. "Country music is what I feel I fit most comfortably with," Aaron said. "I see myself going down that road." The performer said after the show last night, judge Simon Cowell asked him what he felt his best week was, and Aaron told him, emphatically, "country."
He said he's on the verge of finishing high school and after that, "I'd love to record an album of stuff that I've written."
CLICK HERE FOR ALL OF OK!'S AMERICAN IDOL NEWS!
In an emotional moment last night, Aaron's fellow contestant, Michael Lynche, who was in the bottom two with him, embraced the young singer and whispered in his ear. Today, Aaron told reporters, "Mike was saying, 'good things are all going to come out of this for all of us.' He said, 'no worries, man. It's a good place to go. You're going to do good things.' "
Article continues below advertisement
When asked about criticism that it's a lackluster Idol season, Aaron said, "It seems like they say that every year. We're all working really hard up there. It's a very difficult task."
OK! VIDEO: LADY GAGA IDOL PERFORMANCE CUT SHORT
Although he was eliminated this week, while Harry Connick Jr. was the mentor, Aaron said, "My favorite mentor was Harry Connick Jr. He worked with us on such a personal level."
Last night, Aaron got kudos for performing "Fly Me to the Moon" even better after he was voted off the show. He admitted, "I was overthinking it Tuesday night. Wednesday night, I had a great time with it. I let everything go."
OK! INTERVIEW: IDOL CAST-OFF SIOBHAN MAGNUS
On July 1, he starts the American Idol tour in Michigan, in which the top ten finishers on the show tour the country. Aaron looks forward to not having to impress the judges any more and expects it to be "good clean fun" and a chance to "interact with fans and supporters."