NEWS
OK! Interview: Idol Cast-Off Siobhan Magnus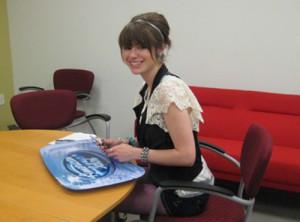 The most recent American Idol cast-off may have been shocked that her days on stage were over, however, Siobhan Magnus is looking toward the future. The fun, energetic, quirky, stylish 20-year-old stopped by the OK! NYC offices and opened up about her voice being compared to Adam Lambert, where she sees her career going, her Idol experience and relationship with Lee Dewyze.
Were you expecting to get voted off?
Article continues below advertisement
Not really. It sucks because I finally had a good week again, you know? I understand that its hard when it gets down to six people…somebody has to go home. And we all had a good week. And I'd never even been in the bottom three before, so it was kind of a surprise.
OK! NEWS: SIOBHAN MAGNUS ON IDOL: "I'M NOT GOING TO CHANGE TO PLEASE OTHER PEOPLE"
What is the experience like of being divided into groups on results night?
It's really scary cause you're always trying to over analyze it. Even when they tell us what order we're sitting in on the couch, it's always: 'Why? Why am I on the end? Why am I in the middle?' And you never know what they're gonna do because they're always really tricky about it.
How did you handle the judges' critiques week to week?
Article continues below advertisement
Sometimes it's really hard to work with their comments because they don't even really make sense to me. And a lot of times I had to like pick and choose which ones I was gonna pay attention to, because a lot of times they would just make fun of my clothes and there was nothing I could do with that.
Which judge did you feel the most connection with?
I'd say Randy's Jackson my favorite judge just because he's the most — like he's honest and it doesn't have to be mean, and he would defend me a lot, especially to Simon Cowell. So I like him the best.
What dynamic do you think Ellen DeGeneres brings to the show in comparison to Paula Abdul?
Well I love Ellen — I've loved her for a long time so I was really excited to get to meet her. And I like her as a judge because the point of view that she has, it's from...like her opinion is more like the viewers of the show because she's not a musician. So her comments are more like something that a viewer would say so it gives us that perspective. We have a really good balance of perspective from the panel.
Article continues below advertisement
OK! INTERVIEW: IDOL CAST-OFF TIM URBAN
Did you think going into American Idol that you would ever go as far as you did in the competition?
I really had no idea. And I just took a lot of chances and a lot of risks and had my fingers crossed the whole time.
Do you pay attention to blogs or feedback on the Internet that also judge you performances each week?
I never looked at any of it ever. I saw like two things probably the whole time I was on the show and that's all it took for me to decide I didn't want to see any of it. Because for every person who likes you and supports you, there's probably 10 who are gonna be nasty and just say terrible things on the Internet, which is cowardly and it's really disgusting that people act that way and that they say those things without knowing us and they just say them to say them. But there are so many of those people and you can't let them get in your way because when you're on the show, you need to be focused and you need to be able to do your best, every week. And if you start reading into stuff then you start to overthink about everything that these people say who you know they're only saying it to get a reaction. They want to catch you off guard and to hurt your feelings so you cant let them.
OK! INTERVIEW: IDOL CAST-OFF DIDI BENAMI
What other contestant did you grow closest with while on the show?
I'm definitely closest with Lee. And it's been really sad to leave and I miss him already, but I've talked to him every day since I left.
Are you guys dating?
No…no I have a boyfriend. There's a lot of rumors, because, you know, because people saying things online. He's one of my best friends, not just on the show but in my life. And you know of all the many reasons I'm grateful I tried out for the show, way up there on my list is that I made a friend like Lee, and I know that we'll always be friends and well share something that a lot of people — most people — don't experience. And it's funny because we talk every day and it's the same conversations we would have if I were there, it's just over the phone. And he's the only one who is still on the show, and I'm not, because usually we'd be helping each other with our songs and asking each others opinions but now, he just asks my opinions, and I've been listening to his ideas for the upcoming weeks.
Article continues below advertisement
Are you looking forward to the tour?
I'm really excited for the tour and I cant wait to be able to perform without being judged and just go out there and sing for the fans and then when you're done singing, you're done, and you can stay happy.
Where do you see yourself going as a recording artist? What genre of music do you want to pursue?
It's really hard for me to pick cause I cant label myself like that because I love so many different kinds of music, but it would probably be more on the rock side. Like blues kind of rock, maybe. But I don't know.
What are you long-term career goals?
As long as I'm doing things that make me happy and that are also positively affecting other people then that's what really matters to me. And I feel I've taken a lot by having the music that's helped me get through my life and having those artists who have helped me so much. My goal is just to be able to give back in a way that I can be that artist for somebody else and if my music could help anybody get through things that maybe they didn't know how to put it into words, but I was able to make it into a song that they can relate to and it makes them feel better, then that's all I really want.
Article continues below advertisement
Everybody looks forward to see what you're going to wear each week. Have you always dressed unique and different? Do you have any inspiration behind it?
Yea I've always just felt the need to express how I felt each day in the way I dress. You know I wake up every morning and say this is how I feel today and then I get dressed like that. And sometimes some crazy things come out of it, but I wouldn't be true to myself if I didn't listen to that and just do it and if I don't do it…I don't feel right and I'm just put off all day.
There have been some people who describe the type of music you sing and the notes you hit as an "Adam Lambert." How does that make you feel?
It's a really big honor to be compared to Adam because he's an amazing singer and an incredible performer, just overall. And seeing him perform live was really inspirational and he just puts everything he has into it. I really respect him and having gone through the process of being on the show, I respect him more now for getting as far as he did because it's so hard. It's the hardest thing I ever did and I only came in sixth place. You know, he made it all the way to the finale. And he's such a kind and genuine person.
Article continues below advertisement
Who was your favorite mentor?
I really liked them all — I probably geeked out the most when I met Alicia Keys because she's incredible. But I also really liked working with Adam because he had the perspective that none of the other mentors had — that he'd been on the show before so he knew what it was like to be in our position.
If you could pick any musical act or group or performer to open up for at a concert, who would you pick?
Probably Hanson, because they're my favorite. I've been a fan for 14 years now.
Did you know they're touring now? What did you think of their new video?
It's awesome I'm so happy for them because they're getting acknowledged again for how talented they are.
And do you think the dynamic of the Idol is going to change with Simon leaving?
It will be a whole different show.
Article continues below advertisement
Do you think it will survive?
I think so, especially if they choose the right person to replace him. And I have faith that they'll find somebody really good.
Who do you think they should choose?
I don't know. I heard a rumor about Jamie Foxx possibly, and I think that would be really cool. We got to meet him one day when we were going in to record and he was really nice. That would be awesome.