NEWS
'Idol' Elimination: What You Didn't See on TV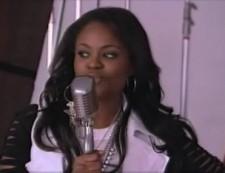 Paige Miles ended her journey on American Idol last night and OK! was in the audience to see her get the bad news. The 24-year-old singer's off-key version of Against All Odds" the night before meant the audience wasn't surprised at all when it was announced that she (and not fellow bottom two dweller Tim Urban) had been voted off. Unfortunately for Paige, it means she misses out on performing on the American Idol tour, which only has room for the top 10 singers.
Article continues below advertisement
After Paige got eliminated and the show went off the air, the other Idols surrounded her, bestowing hugs and well wishes. Judge Simon Cowell gave Paige a hug and quickly left the studio, but Kara DioGuardi, Ellen DeGeneres, and Randy Jackson had a long talk with the preschool teacher after the show, seeming to give her advice and encouragement for the future.
OK'S AMERICAN IDOL LIVE BLOG: THE TOP 11 RESULTS SHOW!
Paige had told OK! at the top 12 party, "I believe I really have what it takes to be a performer for the rest of my life, to make this a career, to create music that my fans will love. I really just feel like I was born to do this." Still, she had added, "I'm not a seasoned performer at all."
OK! BLOG: ANOOP DESAI'S IDOL DISH
She should have taken notes from the week's guest mentor, Miley Cyrus, who performed her song "When I Look at You" on Wednesday night. Miley was in polished form and was happy to have her dad Billy Ray Cyrus cheering her on from the audience. Billy bopped along as she belted it out — and Miley's The Last Song movie producer pal Adam Shankman also took a seat in the audience to lend his support.
Article continues below advertisement
LAST WEEK'S AMERICAN IDOL: WHAT YOU DIDN'T SEE ON TV
Host Ryan Seacrest had fun with the teen idol off-camera, making Miley laugh before she performed by singing a bar of her hit "Party in the USA." Ryan also quipped to the crowd that the fog machine used for Miley's song was "Randy's gas." After her performance, Miley gave father Billy a big thumb's up sign.
During a commercial break, Adam Shankman and David Duchovny did promos for the upcoming "Idol Gives Back" special which will be taped in four weeks. David brought his daughter along to enjoy the show.
Although the Idols were nervous, as is typical on an elimination night, Michael Lynche lifted a little fan, a 5-year-old boy, up in the air when he was brought on stage to meet them.
After they were deemed safe, the other Idols celebrated during a commercial break. Didi Benami and Crystal Bowersox embraced and Aaron Kelly and Casey James gave each other high fives, knowing they will be able to perform in concert once this season is over.
OK!'S AMERICAN IDOL LIVE BLOG: THE TOP 11 PERFORM
Joe Jonas and Demi Lovato shook hands with some of the Idols after performing their duet.
Ashley Ferl, the Idol fan who briefly became famous during season six when her tears for Sanjaya Malakar gave her the name "the crying girl," sat next to OK! in the audience. She thinks it's a girls' season. "My favorites are Crystal and Siobhan," Ashley told OK!, summing up the prevailing sentiment about season nine.