NEWS
Idol's Michael Lynche: "The Plan Is to Put Out a Great Album!"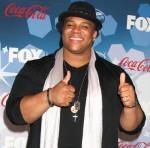 On last night's American Idol's elimination episode, America had to say good-bye to the lovable Michael Lynche a.k.a. "Big Mike," but his loss isn't stopping him from becoming a recording artist, and he is exactly where he needs to be.
Technically, the former college football player and personal trainer had already been eliminated three weeks prior, but was saved by the judges. Once again, Michael found himself in the bottom three. But this time around, there were insufficient votes to keep him in the competition.
Article continues below advertisement
OK! NEWS: AMERICAN IDOL SAYS BIG FAREWELL TO PROUD DAD MICHAEL LYNCHE
On a press conference this morning, Michael told reporters: "I sang well, I performed well, and I feel good about what I did. It just so happens that it didn't happen for me to be in the top three this year. But I am where I am supposed to be, and God has a plan in my life."
After the show, Idol judge Randy Jackson approached him and had a few words of encouragement for the fourth-place Idol contestant.
"He was just pointing out that Chris Daughtry got number four," Michael explained. "I have a chance to be special, but just keep going and it's not a bad place to be where I am."
RELIVE IT WITH OK!'S AMERICAN IDOL LIVE BLOG: TOP 4 RESULTS SHOW!
Chris, who is a season 5 alum, and his band were warmly welcomed back to Idol as they took the stage to perform "September," and might have further encouraged Michael he too can have a future as a recording artist.
Article continues below advertisement
"I'm going to start working on putting together a great album, and working with some really great people," Michael said. "The plan this year is to put out a great album."
OK! NEWS: AMERICAN IDOL'S MOVIE NIGHT WITH JAMIE FOXX
Along with making his debut album, Big Mike also plans to focus on his biggest project yet: fatherhood. His four-month-old baby girl, Laila, was born during his audition in Hollywood, which he missed for his opportunity to become the next American Idol.
Michael explained: "It's nice that I get to be the family man. I'm not anybody else, but that. Being a father is what I am first."