NEWS
American Idol's Movie Night with Jamie Foxx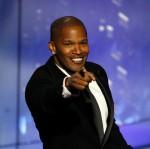 This week the remaining four Idols were mentored by Jamie Foxx on a theme fit for a true star, but none of them shined quite as much as Crystal Bowersox.
OK! NEWS: AMERICAN IDOL TOP FOUR — CRYSTAL & BIG MIKE JUGGLE PARENTHOOD
Lee Dewyze opened the show with "Kiss From A Rose" from Batman Forever, but the judges were not very impressed with the rocker this week because he had out of tune issues. Simon Cowell even said it was verging on karaoke. Although, his family still stood proudly cheering him on.
Article continues below advertisement
OK! NEWS: AARON KELLY LEAVES IDOL, HEADS BACK TO SCHOOL
Up next was Big Mike, who sang "Will You Be There For Me" from Free Willy. But Simon seemed more preoccupied comprehending what Free Willy was while the judges explained why they weren't thrilled with his predictable performance. His wife, Christa Angelelli, was still a permanent fixture, clapping and smiling from ear-to-ear after his performance.
Michael told reporters about Simon's comments, "Focus on what's real, focus on what we're here about... But I love that guy."
OK! INTERVIEW: IDOL CAST-OFF SIOBHAN MAGNUS
For the first duo of the evening, Crystal got to sing rather up close and personal with her musical crush, Lee, with the song that contributed to Kris Allen's win of the competition last season,"Falling Slowly." The performance blew everyone away.
Article continues below advertisement
"It's a very intimate song," Lee told reporters. "It's a very emotional song. If anything, I think it helped me to just get into the song by being that close and singing."
Crystal added with a smile, "I like Lee and his music. We had a great time."
CLICK HERE FOR ALL OF OK!'S AMERICAN IDOL NEWS!
Casey James pleasantly surprised us with his laid back rendition of "Mrs. Robinson," and Randy Jackson insinuated his song selection was greatly influenced by his fellow cougarific judge, Kara DioGuardi.
"I picked the song because I love it," Casey explained. "I've always loved that song and when I picked it I thought, well, that's funny, because it is about cougars. But, that wasn't why I picked the song."
OK! NEWS AARON KELLY — HARRY CONNICK JR. SHOULD REPLACE SIMON COWELL
The award-winning performance of the night went to Crystal, for her rendition of "I'm Alright" from Caddyshack. Her boyfriend, Tony (clad in loose American flag drawstring pants and a bright blue t-shirt) was doing more than alright as he was spotted dancing while Mama Sox jammed on stage.
Article continues below advertisement
"He can't dance very well, but that's alright," Crystal told OK! "He's my world. He's number two in my world actually. He's cool with that."
OK! VIDEO: LADY GAGA IDOL PERFORMANCE CUT SHORT
For the last duet of the night, Casey and Big Mike, melted hearts with their voices and duo guitar playing while performing "Have You Ever Really Loved A Woman." Kara swayed in her chair throughout most of the song.
"It was good getting to know each other," Mike told reporters about Casey. "We were just chilling, and working things out. You know, rehearsing, and making out."
OK! EXCLUSIVE: AMERICAN IDOL SHOWS LADY GAGA THE MONEY
All jokes aside, the Idols' duets other than Crystal's stellar performance that put her back in the game were the highlights of the show honoring the silver screen.
Tune in to Fox tonight for the results show to see which American Idol will have to pack their bags and say goodbye to Hollywood.