NEWS
'American Idol' Says Big Farewell to Proud Dad Michael Lynche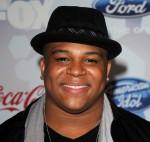 Big Michael Lynche, whose story was one of the most heartwarming in American Idol history, was eliminated from the show on Wednesday night.
But the strong man with the heart of gold will be just fine as the fourth place finisher this season because he has wife Christa and their four-month-old baby daughter Laila by his side.
OK! AMERICAN IDOL LIVE BLOG: TOP FOUR RESULTS SHOW
The former personal trainer with a voice as robust as his body touched Idol fans when his wife gave birth to their daughter as he was competing in AI's Hollywood week, trying to give them a better future.
Article continues below advertisement
Mike made it all the way to the top four. And just hours before Christa learned — along with the rest of America — that he'd been voted off, she opened up to OK! about her husband's Idol journey.
OK! NEWS: AMERICAN IDOL'S MOVIE NIGHT WITH JAMIE FOXX
"He has such a big heart," she says of her husband. "He tends to cover up his feelings very well so I don't think that viewers have seen how much the show means to him and how he's giving it his all every single week."
"I think they probably haven't seen that part and how much of a struggle it is for him because of the sacrifice he's making with the baby, because he's not around a lot."
OK! NEWS: CRYSTAL AND BIG MIKE JUGGLE PARENTHOOD
Christa revealed to OK! what we didn't see on TV — that doing the grueling reality show was hard on the new father. "He tends to get home kind of late at night, so she's already asleep by the time he's home, and he doesn't really have any day time off, so it's been kind of difficult in that aspect of just trying to bond with the baby," she said.
Article continues below advertisement
But Big Mike has spent as much time as possible with little Laila during the competition, and Christa said, "we have this BabyBjorn carrier and he wears that and he's got this like 'Daddy Wiggle,' we call it, this funny bounce move that he does and she loves it."
OK! NEWS: IDOL'S AARON KELLY'S ELIMINATION INTERVIEW
"She just goes right to sleep or she just looks around. She loves that carrier. That's what he does a lot with her. When Michael's holding her everyone tells him, 'she looks exactly like you.'"
Christa said fans came very close to not seeing Michael on American Idol at all, because when she went into labor during his Hollywood auditions, he told her, "maybe I should just come home and forget about this."
OK! NEWS: AARON KELLY: HARRY CONNICK JR SHOULD REPLACE SIMON COWELL
"But I kept saying, 'no, you're there, seize the opportunity!' He was definitely at a breaking point," says Christa. "He never wanted me to feel I came second to his career. He was really struggling with the priorities of having a baby and chasing his dream."
Article continues below advertisement
But, Christa said, they're both thrilled he persevered: "He's got so far and it's completely changed our lives."
OK! NEWS: LADY GAGA IDOL PERFORMANCE CUT SHORT
His wife said, "he definitely wants to record an album and he's a really good songwriter. We'll either move to California or New York and be together way more than we are now. He definitely likes to have us around all the time. He embodies what a man should be, a father and a husband. He takes his responsibilities really seriously."
Though Christa was hopeful during her OK! interview about Mike making it to the finals, sadly, later in the evening, she and all the other Idol relatives were on hand to see his show experience end.
OK! INTERVIEW: IDOL CAST-OFF SIOBHAN MAGNUS
When Casey James was the first contestant declared "safe" to move on to the final three, the blonde singer threw his guitar pick into the mosh pit, let out a deep sigh, and hugged a production assistant.
Article continues below advertisement
The stage manager, Debbie Williams, playfully kicked Casey's leg in a sign of celebration. After Lee Dewyze advanced to the finals as well, he shared a hug with Casey.
OK! NEWS: IDOL'S CASEY JAMES: I ABSOLUTELY DESERVE TO GO HOME TOMORROW
At the end, with only Mike and Crystal Bowersox left to learn their results, Crystal got the nod and the big guy was cast off. After the show, Mike hugged Christa and his baby, who were both on stage, and Casey put a consoling hand on his shoulder.
The rest of the Idol hopefuls seemed stunned that their friend would not be continuing on the show. Finally, Mike, Christa, and little Laila walked off stage to the cheers of the crowd.
By Carole Glines