NEWS
If You Could Have Lunch with One Person...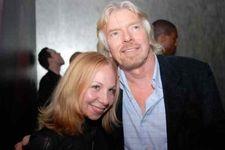 When I interview celebrities a common question I like to ask is, "If you could have lunch with anyone dead or alive, who would it be and why?" This is usually a whimsical, theoretical question just to get into the psyche of the celebrity about a lunch that will in all likelihood never manifest. When I re-direct this question back to myself, Sir Richard Branson tops my list. Fortunate for me, I was lucky enough to see my dream lunch date become a reality, yesterday in Laguna Beach.
Article continues below advertisement
Earlier in the day I wondered what I'd do to kill time between the beach party on the tarmac of the John Wayne Airport in the OC to celebrate the arrival of Virgin America's first flight into the airport and the soiree that ensued to celebrate later that night at the Pacific Edge Hotel in Laguna Beach. Starving, after the OC Virgin America's Christine Choi and I jumped in my car, put the top down and cruised down to Laguna Beach in search of food. En route, the lovely Miss Abby Lunardini called to let us know she was having a late lunch ocean side at Las Brisas. I didn't know until we walked to the table that Abby was also with Richard Branson and Virgin America's CEO David Cush. We joined their meal in progress and I was seated next to Sir Richard.
Being the Virgin America fan that I am with a perfect attendance record at their parties and launches I've had the privilege of meeting and speaking to him several times, but never in such an intimate non-event setting. Normally I'd take full advantage of the situation with a barrage of questions to the man who mystifies me with his energy, passion, enthusiasm and resulting brilliance, but instead I just sat back, picked at my maui maui tacos and observed, in between mumbled responses to questions he asked and extolling how great OK! is evolving (still working on that OK! on Virgin America deal).
Article continues below advertisement
Branson had two Virgin strawberry daiquiris. Despite him suggesting I get one as well, when the waitress approached I held my ground and ordered a water, choosing to spend my sugar quota for the day on a cocktail later. I ordered maui maui tacos as he did, and only ate the inside while avoiding the rest of the carbs on the plate, as he did. In between working on his blackberry, which he thought he lost three times during the meal (like I would), and talking to the CEO about what airports should be launched next, I got a lesson on the safest place to go during the outbreak of an airborne virus, such as swine flu. The answers: a Virgin America aircraft. Really.
Did you know Virgin America's Airbus A320-family planes re-circulate and re-sterilize 100 percent of cabin air every 3-15 minutes?? Fresh air is pumped into the aircraft from outside (where it is sterilized at -75 degrees, then heated to 800 degrees in the engines and cooled upon re-entry) making it essentially in a safer environment than in a theatre, crowded restaurant or other enclosed space.
Sounds as good a reason to travel during flu season as any to me. Or, for those of us on the ground, it a good factoid for weekend conversation ;) xo