NEWS
IN THIS ISSUE: Kate Gosselin Wants Jon Gosselin Back!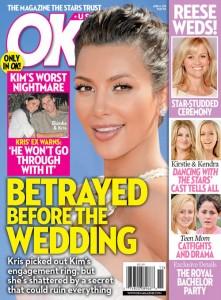 They fought and fought. And then they split. Now, with her solo show struggling, Kate Gosselin misses her ex Jon — and all their drama — more than ever. After the end of Jon Gosseln and Kate's famously volatile — and fertile — 10-year marriage in 2009, a tearful Kate told the Today show she pined for the man she fell in love with.
"I'm still hoping at some point I'll receive a phone call," she said, "and the old Jon is back."
Article continues below advertisement
That call hasn't come; Jon is happily out of the limelight, working a construction job and in love with girlfriend Ellen Ross.
But Kate still misses her ex. In fact, friends say she's lost without him, professionally (and yes, even personally) struggling with single mass motherhood and a show that is floundering without the special love-hate dynamic of Jon & Kate Plus 8.
"He was her whipping boy," explains a longtime family acquaintance, "but he was also her best friend. Yes, things were very toxic between them, but there was at least some sort of camaraderie."
Maybe so, but it was the Gosselins' fights over the kids, over household chores, over alleged infidelities — well, over pretty much everything — that made them America's most compelling parents. Team Kate saw Jon as a jerk; Team Jon saw Kate as an intolerable shrew.
Article continues below advertisement
OK! NEWS: KATE GOSSELIN TURNS 36 TODAY — FROM JON & KATE PLUS 8 TO MOM READY TO DATE!
Without all those marital fireworks, Kate's solo effort, Kate Plus 8, has posted disappointing numbers. The show debuted with 3.4 million viewers, but after the inital curiosity faded, so did the audience — by more than 50 percent.
And now, with a new season premiering on April 4, the pressure's really on.
"His departure has made the show less interesting to people and left a very real hole in her life," adds the insider. "She pretends to be made of steel, but underneath it, she is very sensitive."