NEWS
It's been a few days, but it's been a week...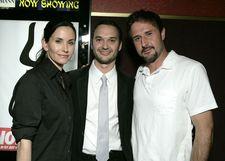 For some reason this didn't post the other day, but...
Tuesday night I went to my first L.A. movie premiere. The film was called Nosebleed, written and directed by first-time movie maker Jeff Vespa. David Arquette was the star, and only character in the dialogue-less film. His wife Courtney Cox came to support her husband's solo performance dressed down (to put it nicely) in black slacks with a black button, not tucked in, and her hair in a loose ponytail. She looked like she could have been in mourning (although still beautiful). The whole film was about David's character's nose bleeding, everywhere — from onto his steak, to pillows and even the walls! Vespa told me it was a metaphor for the character's lonely depression. It was only nine minutes long. I guess ones nose only has so much blood to bleed.
Article continues below advertisement
Friday night I had dinner at STK LA — and sat across from Victoria and David Beckham on a double date with Kate Beckinsale and Len Wiseman! I'd love to know how long it takes always prim, proper and polished Posh to get ready each day. I was planning to go to Les Deux afterward but couldn't pry myself away from America's favorite imported couple long enough to get there in time.
I missed seeing Nick Lachey — who, like his ex Jess ,was also out with a football player that night, his BFF Matt Leinart. Where was Vanessa? I guess a guy's entitled to a boys' night out.