NEWS
'It's Kind of a Funny Story' How Zach Galifianakis Got Two Directors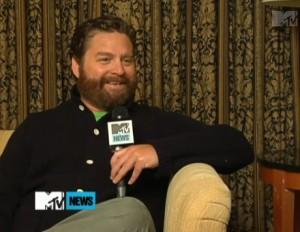 When you have a comedian like The Hangover star Zach Galifianakis, you may need two directors to keep him in control! Especially with the kinds of demands Zach has on set!
OK! VIDEO: ZACH GALIFIANAKIS GETS SEAN PENN BETWEEN TWO FERNS
"I had a few questions," Zach told MTV News about agreeing to work on It's Kind of a Funny Story with two directors. "One of them was: 'When are the lunch breaks?' 'How long are the lunch breaks?' and 'Is this a Pixar film?' Because those are my three rules."
Article continues below advertisement
But no, Zach's only kidding.
"No, the script was good, I really liked the directors, and that's kind of what I based it on," he explained.
In the film, which OK! is currently reading the semi-autobiographical novel it is based on in our book club, Zach plays Bobby, a patient in a psych ward, who befriends Craig Gilner (Keir Gilchrist), a 16-year-old who checks himself into the hospital.
OK! NEWS: INTRODUCING OK!'S ONLINE BOOK CLUB — IT'S KIND OF A FUNNY STORY
MORE ON:
Zach Galifianakis
Zach says his two directors, Ryan Fleck and Anna Boden, were able to use their filming techniques to make a great film.
"Ryan does most of the talking, and Anna is in the background a little bit," Zach explained. "But equally, I think they have the same amount of influence, but they're very, very good directors. They're soft-spoken and nice. It was a pleasure working with them."
Watch Zach's interview below!
It's Kind of a Funny Story hits theaters in NYC and L.A. on Oct. 8!