NEWS
Jack Osbourne Talks Fatherhood: 'It's Overwhelming'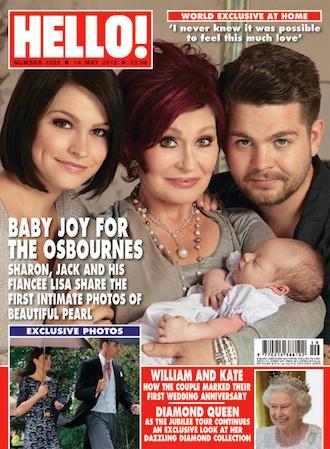 Look who's all grown up!
OK! NEWS: JACK OSBOURNE IS OFFICIALLY A FATHER! BIG SIS KELLY OSBOURNE TWEETS EXCITEMENT
Jack Osbourne posed with mother Sharon Osbourne, fiancée Lisa Stelly and their two-week old daughter, Pearl, on the cover of this week's Hello! magazine.
Jack — who most of us remember as the chubby kid on MTV's The Osbournes — is taking fatherhood in stride after the birth of Pearl on April 24. This is especially impressive considering he'd only known Lisa about three months before she became pregnant and responded with a flippant "that's interesting."
Article continues below advertisement
"We met in May and found out (about the pregnancy) in August," he told Hello!. "'I told Lisa, 'You need to give me a week to really take this in.' I had that time to get my head around the whole situation."
OK! NEWS: JACK OSBOURNE SHOCKS HIS PARENTS ON PIERS MORGAN: 'I'M ABOUT TO BE A FATHER'
Pretty mature reaction for a 26-year-old, no?
While Lisa and Jack plan to make it official and walk down the aisle later this year, right now they're soaking in being first-time parents.
"People say when you have a kid, it's like instant love, but unless you've experienced it, it's impossible to comprehend," he said. "The moment I saw her I felt more love than I'd ever felt for anything. It was the weirdest, most overwhelming thing."
Congrats Jack and Lisa!