NEWS
Jade Goody "Slightly Better" After Operation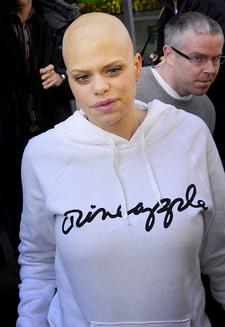 Although an operation to help relieve some of Jade Goody's pain went well and she seems "slightly better," friend and publicist Max Clifford says the British TV personality is still seriously ill, and could only receive a few visitors.
"She's got a lot of close friends but at the moment she doesn't really feel able to see people," Clifford tells the Daily Mail.
New husband Jack Tweed, his mother and her friend Kevin Adams have been to Royal Marsden Hospital to see Jade as she remains "sedated and sleepy," while her two sons are staying with their father, Jeff Brazier and Jade's mother, Jackiey Budden.
Article continues below advertisement
"I hope she's going to feel better and in less pain," says Clifford. "'That it will improve her quality of life in the near future for as long as possible.
"We're hoping and praying that Jade pulls through," he adds, "but the fact of the matter is that she now only has a short time to live."