NEWS
James Durbin on Life After 'American Idol' & Are Haley Reinhart & Stefano Langone Really Dating?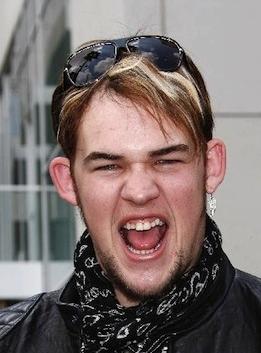 American Idol returns tomorrow night, and it is surprising to realize that it has already been a year since last year's talented roster graced our televisions.
One of the stand-out performers was fourth-place finisher James Durbin, who rocked his heart out every week on the Idol stage. James has now released his debut album, Memories of a Beautiful Disaster, and is rising on the rock music charts. OK! chatted with James about his new music, getting ready to launch a tour, being a newlywed and whether or not his Idol pals Haley Reinhart and Stefano Langone are really dating.
Article continues below advertisement
The "Stand Up" video comes out next week. What was it like to film it?
The "Stand Up" video is pretty fun. I wouldn't say it was as fun as the "Love Me Bad" video shoot, just in terms of the fire and everything. The "Stand Up" video was kind of thrown together a little bit. I'm not going to lie, I am not as happy with it. But we did the best that we could with it. It's the band playing and different scenes of walking around. I'm working on a script for a video for another song called "Deeper." It feels like you are falling through a dream or a nightmare, rather. I am from Santa Cruz, Calif., and that is where they shot Lost Boys. I was going to do it there, and I have so much hometown support.
Article continues below advertisement
Will "Deeper" be the next single?
I don't think "Deeper" would be a single. I think the next single that would work would be "Love in Ruins" for Hot AC. I think that song could be a definite hit. It has much more of a throwback feel. And then for Rock, there is a song called "Higher than Heaven" which I co-wrote. It's so personal. It's about my life before I met my wife, Heidi. I was going down a broken road, drugs, partying. It was really dark and depressing. And then as soon as I met her, I felt something inside me. A light turned on that had never turned on before and I knew that this was it. If I was going to impress this woman, I had to impress myself. I had to make myself a better person. I stopped doing drugs, I stopped smoking weed, I stopped going to raves. I worked my a** off and I changed that, for her. She was my guardian angel. That's what I wrote about in "Higher Than Heaven." But it's rock n roll, it's not cheesy whatsoever. It's me.
OK! NEWS: AMERICAN IDOL ALUM JAMES DURBIN ON THE X FACTOR: "IT WAS JUST CAMPY AND RIDICULOUS"
What was it like to finally marry her?
That was unbelievable. Before she even walked into the chapel, I was already tearing up. My jaw just hit the floor. I couldn't believe that this is who I get to spend the rest of my life with. It was the greatest moment of my life.
Do you have plans to have more kids?
Maybe one day. At this point, no. We're not expecting to have any more at this point. But a couple years down the line, maybe or maybe not. I think it all depends on where the career is going and what direction it goes in and how far up it goes. It's never going to go down. It's never going to go anywhere but up.
Article continues below advertisement
So Haley Reinhart, Stefano Langone and Casey Abrams were all at your wedding. We hear Haley and Stefano are officially dating now?
Oh, I don't know about that.
We heard you said that they were in an interview.
Well, that's what I thought laughs. I couldn't tell you.
Do you think that they would make a good couple?
Maybe.They're both good singers so I don't see why not.
Is it true that Casey was late to your wedding?
Casey was 18 1/2 minutes late, so we held the wedding. He couldn't find his way. He should have gotten to the chapel early, and he couldn't find it. He was driving around looking for it for 2 hours. Whatever we said to try and help him, he said no laughs.
Are you happy that all three of them now have record deals, too?
I am! I am very happy for Stefano and I am very happy for Casey. Haley has had hers for a while. I think she got hers right off the bat.
Article continues below advertisement
Would you ever want to work with them?
Yeah, perhaps. There is something about clashing styles probably. We're all completely different. If anything, I would dive in on something with Casey. I'm a big fan of old blues rock singers, and I used to be in jazz choir for a while. We wanted to sing a song together on tour, but it didn't happen.
Do you believe it's been a year since your season started?
No, it feels like longer. It's very surreal that the new season is starting. The past is past and the future is now. What am I going to do to make people remember me tomorrow? People remember me from Idol, but now this is my time to be James Durbin, the artist. James Durbin, the songwriter, James Durbin, the person. I am a human being like everyone else.
Do you have plans to tour?
Absolutely. We're getting everything sorted out. I am flying to Tampa to talk with a band. I can't say who it is. This is how I look at it. I came off of Idol. I think it's a lot easier in the pop world or country world, to come up in their world. In the country world, it's such a tight-knit family. Scotty McCreery and Lauren Alaina are so accepted in that family. Scotty started his tour with Brad Paisley. His album just went platinum. And Lauren is touring too, with Jason Aldean.
Article continues below advertisement
Will you watch Idol this year?
I may tune in, but I just don't want to be as invested as I was last year. I put my family through a lot, so invested in crowding around the TV every week. That's not how we are. We are not that obsessed with television. But I'm definitely going to tune in.
Where do you want to be a year from now?
I want to still be doing what I love to do. I want to be playing with my whole band. No more of this acoustic s***, I'm f***ing sick of acoustics. I want to be playing music that I love. The next album, I want to write all myself. I want to be a collobarator on every single song. I want to be writing songs with my band. We want to play music that we love to play every single night. We love the music that we're playing now, but we didn't write it all. You don't get that complete satisfaction when you don't write all the songs. I was on the Idol tour so I didn't get to write all the songs. There are other songs. That material isn't in vain. We are still going to use it. I'd love to do a double album. I'd love to put out an EP this summer, just keep having music come out. I think that's the brilliance of being an artist is that you're in control of your own destiny. It's what you do that makes you who you are.